Posted on: 11th October 2013 |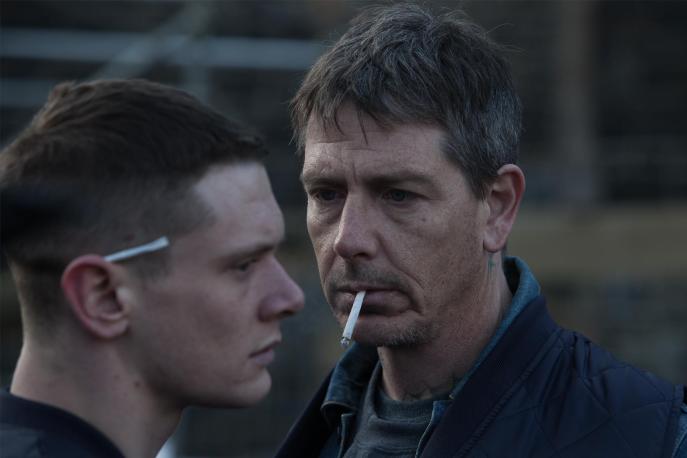 Director: David Mackenzie
Starring: Jack O'Connell, Ben Mendelsohn, Rupert Friend
Certificate: TBC (100 mins)


Starred Up tells the story of Eric, a young offender who has been transferred to an adult prison due to his behaviour – a move to which the film's title refers. Here he discovers his father, Neville, who is incarcerated on the same wing. This encounter and the gradual unravelling of a rather embarrassed, awkward and undefined love between father and son is the dominant theme of the film. Neville is revealed to be a father who knows he was not there to witness Eric growing up but who seizes this new opportunity to have some influence in his young son's life.
Neville is an incredibly dysfunctional character who holds much influence within his wing; in the power dynamic of prison politics, he is the alpha male, ruling by violence and fear. Eric reaches his own violent peak when he discovers his father has a sexual relationship with his cellmate, something that resonates with and provokes Eric following his abuse as a child. Indeed, it was his retaliation against his abuser that brought him to the youth justice system in the first place.
Starred Up is an extremely physical film that was made in a real, disused, Victorian prison in Belfast. It was filmed chronologically within this very convincing and small space, and edited simultaneously. It conveys realistically the inside of a prison with its claustrophobia, intensity and hot-house atmosphere. Conversations are violent and seemingly without love, yet we grow to learn that the external anger and rage on display is just pretence; deep down, the characters share the human craving for recognition and love.
First-time screenwriter, Jonathan Asser, insists the film has some basis in his experience as a volunteer therapist in a London prison and he claimed before the screening of the film that it carried some authenticity. This was a big statement to make, not least because of the actions of the prison authorities in the film, particularly the unsympathetic and corrupt prison Governor. Moreover, the portrayal of the inmates themselves is highly caricatured, it is brutish and animal-like; the dynamic of relationships is one of force and control, where friendship consists of nothing more than an awkward exchange of a cigarette lighter or a cup of tea. The brutality between the inmates creates unrest and instability in what should be an extremely controlled environment.
The film portrays the life of an offender behind bars as harsh and often brutal, and pits the inmates against a system that seems to be severe and cruel. From my own experience of assisting in a London prison, I would be hesitant to describe this as 'authentic'. Starred Up depicts a world of violence, disrespect and struggle in the extreme. In reality, a prison wing is a surprisingly ordinary place where friendship, love and fear can all be found, as can – contrary to the expectations of this film – a prison service that cares for those in its charge.


Christian Keeley SJ




 Visit this film's official web site