Posted on: 13th March 2015 |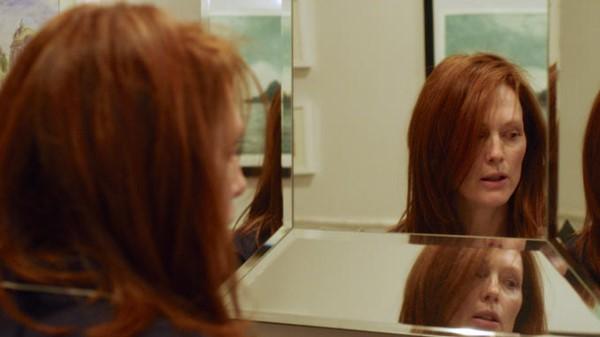 Directors: Richard Glatzer and Wash Westmoreland
Starring: Julianne Moore, Kristen Stewart, Alec Baldwin, Kate Bosworth, Hunter Parrish
Certificate: 12A
Running time: 101 mins
UK release date: 6 March 2015
There is a gentle fury bubbling at the heart of Still Alice, the film based on Lisa Genova's novel. It is at once both a searing look at the issue of early onset Alzheimer's disease, and a heartbreaking testimony to how its diagnosis impacts on an academically successful New York family. To all intents and purposes, it is an intimate character drama. It is undeniable that the film exhibits a deep empathy, driven by a powerful and courageous central performance by Julianne Moore. Indeed, the performance saw her rewarded with an Oscar, among many other accolades, and it is not difficult to see why.
Moore plays Alice, a successful and celebrated linguistics professor who begins to experience small but troubling problems bleeding into her life just as she turns 50. First, it is a matter of not being able to remember a word; then there are moments of confusion and overwhelming anxiety. Strongly independent and a natural fighter, Alice initially tries to tackle the issue on her own. However, once her diagnosis is confirmed, she begins to rely more and more upon her husband, John (Alec Baldwin). Their relationship is clearly strong, but is severely tested as time goes on.
The family unit is rounded out by three grown children, each with lives and strong personalities of their own. Kate Bosworth plays Anna, the eldest, a straight-laced lawyer; and Hunter Parrish is Tom, the middle child who is working in medicine. The pick of the siblings, however, is a powerfully understated and restrained supporting performance from Kristen Stewart as Alice's youngest daughter, Lydia. Initially mother and daughter spar over Lydia's lifestyle and career choices, but increasingly it is their relationship that bears the emotional weight of this affecting film. The family is tested by Alice's illness as things become harder and harder to bear, but at the same time a new level of connection is reached as they bind together to support their mother.
The film itself is like a healing scar – itchy, tender and raw. You can almost feel the aggressive heat coming off the skin of the narrative. There are moments of light relief and genuine warmth, but there is also plenty of anger and bitterness on display as the prognosis becomes more serious. Central to this is Moore's performance, which has rightly been regarded as among the strongest of her illustrious career. It is brave, genuine and naked. On many occasions, Moore deftly betrays Alice's inner fear as she forgets where something is, or the name of a loved one.
There is strong yet subtle cinematography from Denis Lenoir, who mirrors Alice's struggle with effective camerawork; in some shots focus is lost and then regained. The shot design also functions to further centralise Moore's performance, bringing a theatre-like intimacy to certain scenes. Directed and written by partners Richard Glatzer and Wash Westmoreland, there is more than a hint of deep understanding in the film. Sadly, Glatzer passed away earlier this week, having lost his own battle with motor neurone disease. There is a sense that the directors' own life experience impacted on the final piece.
This is because the audience is not allowed to forget for a moment the dignity inherent in this story. But it is not just about the search for the dignity of the human person in moments of suffering and loss of sense of self. This film is a testament to carers, those who love beyond convenience. It is a warm tribute to the millions of families who accept with grace the battles of modern illnesses. It is an ode to those who face uncertainty, anxiety and fear with courage and strength. As the last line of the film attests, 'It was about love'. And there is no simpler way of remembering this film than that.