Posted on: 7th December 2012 |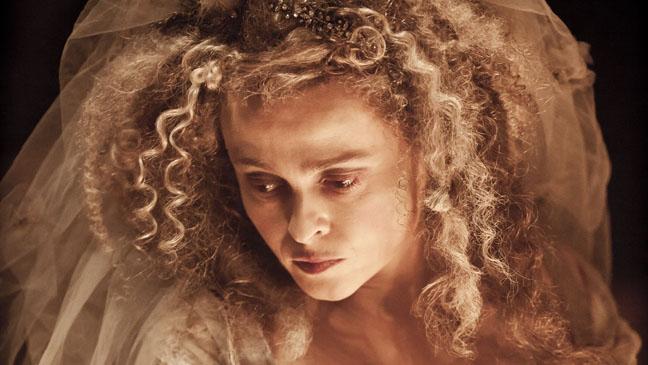 Director: Mike NewellStarring: Jeremy Irvine, Ralph Fiennes, Helena Bonham Carter, Holliday GraingerUK Release date: 30 November 2012Certificate: 12A (128 mins)
I must admit that I was far from pleased when I learned that Great Expectations was being adapted for the big screen by David Nicholls. Having enjoyed his first novel, Starter for Ten, I was less keen on 2005's The Understudy and then avoided altogether his latest, bestselling novel (and subsequent film), One Day. However, had I done my research and found out that Nicholls was also responsible for scripting the BBC's impressive 2008 version of Tess of the D'Urbervilles, I would have been less concerned – and rightly so.
Both Nicholls and director Mike Newell deserve to be commended for their efforts in condensing Charles Dickens' masterpiece into little more than two well-paced but tightly-scripted hours. There are, admittedly, notable absences: there is no room here for Orlick, which means that Mrs Joe meets her demise earlier, off-screen and in a far less brutal fashion (a bad heart) than in the novel; and this omission also plants the role of Pip's true nemesis squarely on the shoulders of Bentley Drummle. More surprising is the lack of the subtle humour of the novel, especially given that Nicholls' comic talents have been so evident elsewhere. A well-cast David Walliams provides what light relief there is, with his pantomime-dame portrayal of Mr Pumblechook, but other opportunities to inject some humour are missed. For example, the young Pip's amusing innocence (I think particularly of his referral to his late mother as 'Also Georgiana') and the older Pip's relationship with the nuisance that is the Avenger, are both alluded to in passing, but devoid of their comedic value.
Walliams is not the only notable performer. The cast as a whole is outstanding: Ralph Fiennes's Magwitch is coarse and vulnerable in equal measure; Jeremy Irvine is a terrific Pip, his transformation from blacksmith's apprentice to gentleman to surrogate son quick but credible; and the latter's relationships with his closest allies, Joe (Jason Flemyng) and Herbert (Olly Alexander) are true to the original. It is also a pleasure to see a great deal of a much-loved but often overlooked character from the novel, Mr Wemmick (Ewen Bremner), arguably the hero of the piece. Not only is he allowed to give the plot much of its momentum, but his home life at Walworth with his Aged Parent, described so charmingly by Dickens, is also deemed worthy of some screen time.
It is a fresh and interesting take on Miss Havisham, too. Not necessarily in visual terms – there is nothing new about the wide-eyed, decaying bride – but there is a certain sympathy and admiration for the woman in Helena Bonham Carter's performance. She is, on the whole, very composed, her speech quite incongruous with her appearance, which makes her all the more unnerving. This jilted bride is most certainly a victim of circumstance, but the wasted years that have corroded her exterior and her surroundings seem to have left her mind curiously intact for the most part. Holliday Grainger's turn as Estella doesn't quite manage to convey why Pip becomes and remains so entranced by her, but in a strange way it makes sense that a more rational Miss Havisham would have crafted such a matter-of-fact protégé.
The dilapidated Satis House, a monument to the trials of its mistress, is almost another character in itself. Gloomy and foreboding, neither the house nor the state of mind it represents can be escaped from easily. A young Estella tells Pip that 'Satis' means 'enough', and that the name of the house 'meant, when it was given, that whoever had this house could want nothing else'[1]. But of course we are called by St Ignatius not to 'enough' but to the magis, to 'more', and we see this lesson in Great Expectations in a surprising place. It might be difficult to see Magwitch's path as an honourable one with a happy ending, but perhaps it is. His reaction to the simplest of gifts from a young boy is to pledge his life to returning that generosity in abundance: 'I swore that time, sure as I ever earned a guinea, that guinea should go to you... I lived rough, that you should live smooth'[2]. He finds peace in the fulfilment of a promise made in nothing but gratitude; and he sees no sacrifice in what he has done for Pip, rather he takes delight in the giving. The story may suggest to us elsewhere that striving for more is dangerous – Pip's lofty ambitions are presented as a rejection of a virtuousness embodied in simple, honest Joe – but this is a warning against greed and pride, not against the desire for achievement, either for oneself or others.
Pip believed that his destiny lay in Satis House, but when his eyes were opened to see the truth about the gift he had received, he became disillusioned with the trappings of what he had once thought was 'enough'. When we, too, begin to find 'no glimpse of daylight' in the 'Satis', then perhaps the magis, rightly understood, is our way out of the darkness.
Frances Murphy Visit this film's official web site
---
[1] Charles Dickens, Great Expectations, chapter 8.
[2] Ibid., chapter 39.