Posted on: 1st April 2010 |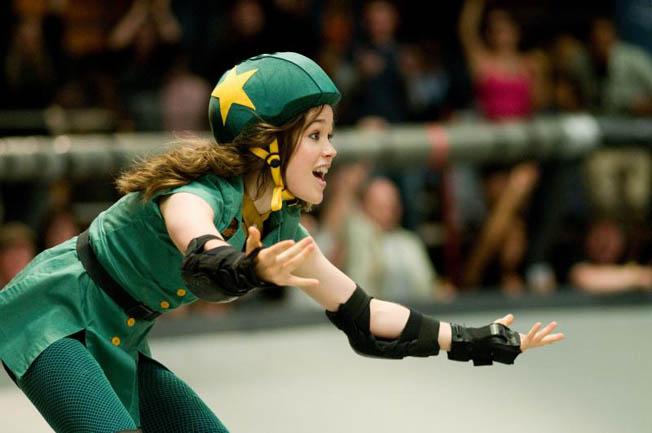 Director: Drew Barrymore
Starring: Ellen Page, Marcia Gay Harden, Drew Barrymore, Kirsten Wiig
UK Release date: 7 April 2010
Certificate: 12A (111 mins)


Quirky, perky, feisty but sexy and all about girl power - Drew Barrymore's endearing image manifests through to her directorial debut, Whip It. Premiering in the UK as the closing night film for the Birds Eye View Film Festival, a festival dedicated to women in film, what could have been more appropriate? With the rare combination of a female director, screenwriter, a predominantly female cast and a focus on female friendships and a mother-daughter relationship, this film gives a fresh perspective on the tired term, 'girl-power'.
Bliss (Ellen Page of Juno) is a bored 17-year-old longing to escape from Bodeen, Texas. Her loving family have the best intentions but Bliss is reluctant to follow in her mother's (Marcia Gay Harden) footsteps as a beauty pageant contestant. Bliss longs for more than her dead-end job at the local diner and pageants. By chance she finds out about a female roller-derby league in a nearby city. She lies about her age in order to join a team called the Hurl Scouts and it is not long before she transforms into Babe Ruthless and quickly becomes the team's star. All the while she keeps this a secret from her family and maintains her double life by continuing to enter beauty pageant contests. The lies finally catch up with her and it is decision time for Bliss.
Whip It encompasses the usual elements of a sports film with the small-town black sheep as an underdog and a series of training montages. Simultaneously, it also adopts the usual conventions of a teen movie with the combination of secrets, misunderstandings and overbearing parents. Naturally, to abide by conventions, it results in Bliss' team's big match being scheduled on the same night as the beauty pageant her mother has been planning and preparing her for. Despite adopting the typical sports drama and a coming-of-age tale structures, screenwriter Shauna Cross adapts her novel Derby Girl in a sincere and entertaining way that provides original content to a recognisable formula.
Roller-derby mentor Maggie Mayhem (Kirsten Wiig) is depicted as someone who has made sacrifices and compromises in her life and this is a theme that reoccurs with all the leading female characters, in a way that makes them more three-dimensional. Whip It avoids the usual high-school bitchy teen movie style and deals with real issues. In fact, it is Bliss' ability to compromise that marks her coming of age in this film. The scenes where she challenges her mother's '1950s idea of womanhood', and the confrontations and resolutions that follow between the two, offer insightful moments of sincerity in the film.
The portrayal of these young women being aggressive and comparing bruises is matched with the fantastically choreographed and well-shot matches that capture the raw feel and violence. However, what really gives this film its empowering quality, is not the shock of seeing women doing what men have been doing on screen for years, but the sense of female camaraderie.
Probably the least convincing relationship was between Bliss and her emo-rocker love interest, Oliver (Landon Pigg), which veered away in relevance from the storyline and delivered little, if any, chemistry. Nonetheless, this was saved by the fact that in this teen flick, for once, the heroine's tale was not absorbed in the pursuit of a love interest. Although the romance failed to impress, the alternative subplot between Bliss and Pash (Alia Shawkat) was successful in its depiction of a real and touching friendship.
The script is quick and witty and Ellen Page yet again proves she can master the eye-rolling sarcastic teenager role with superb delivery of a series of hilarious lines. In many ways this film was much like a sequel to Juno, but even so, Page gave a superbly convincing performance. Combined with Barrymore's infectious upbeat stamp, Whip It manages to triumph through the familiar clichés and provide us with a heartwarming and hilarious dramedy.


Aneeka Verma




 Visit this film's official web site