Posted on: 26th September 2008 |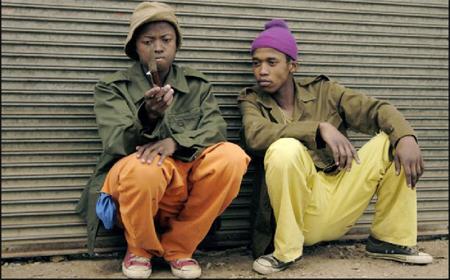 Director: Ralph Ziman
Starring: Rapulana Seiphemo, Ronnie Nyakale, Jeffrey Sekele, Mlusi Skenjana,Jafta Mamabolo, Motlatsi Mahloko, Shelley Meskin
Certificate: 16LV (118 mins)


This gangster movie, may have a familiar plot and even a few nudge-nudge quotations from The Untouchables, but for the rest it is as South African as biltong. This is ensured by it having been shot on location in the grittier parts of Soweto and the 'vibrant' inner city area of Johannesburg known as Hillbrow. The setting enjoys a perfect fit with a strong local cast and a fine screenplay partly in local versions of English and partly in township-speak with creatively translated subtitles.
Recent South African history is sketched into the background of the youthful development of two Soweto boys, Lucky Kunene and his sidekick Zakes, who are at school during the political death of apartheid. As time zooms towards the present, very quickly indeed in this fast-paced film, Lucky's criminal career path reflects the disillusionment and disappointment he and many other young township dwellers feel. The revolution has not brought the transformation to their lives that they had hoped for and this is made painfully concrete in the hero's inability to take his place at university because of a lack of funding.
The two companions move from selling sweets and perfumes illegally on commuter trains, via several violent and rocky stages to becoming established hoodlums in Hillbrow and specialising in hijacking apartment blocks. There is plenty of heavy weaponry in evidence and it all seems to get used in some full-blooded shootout scenes. Lucky and Zakes as youths are played with delightful and believable adolescent overconfidence and energy by Jafta Mamabolo and Motlatsi Mahloko.
Relief from the grit, grime and guts is to be found in Lucky's tender relationship with his old-fashioned, deeply religious mother and his doting younger siblings. In addition, the harsh techno-music frequently gives way to deep and soulful gospel songs (such as Jerusalema), and a number of patrons in the cinema actually sang along with these popular numbers when I watched the film.
South African issues are all woven into the plot and its development. Race, of course, is unavoidable. While being pursued by an icily-played, untouchable-like Afrikaner policemen, perhaps playfully called Blackie Swart (Blackie Black!), Lucky relentlessly pursues the dream of moving to the white suburbs and perhaps eventually even the coast (Jerusalema?). En route he acquires an elegant, liberal Jewish lover to whom he appeals as a kind of black Robin Hood figure, the dashing, even chivalrous entrepreneur who solves the housing problem of the inner city poor by direct but dubiously legal action.
Xenophobia is also presciently there as Lucky and his gang come eyeball to eyeball with Nigerian drug dealers, the leader of whom turns out to be a pretty irredeemable villain as he takes frightful revenge after being sidelined by Lucky. I suppose most nationalities at some time have to put up with being the really bad guys; back in the eighties it was white South Africans, then it became Arabs, followed by Russians and now it's Nigerians. The problem with that in a place like South Africa is the raw reality of xenophobic violence on our cities' streets, and it's debatable whether portraying the arch-villain as foreign is helpful just at the moment, when we are trying to recover from such violence.
The film's really serious and pervasive issue is whether apartheid and the resulting continuing social deprivation justify crime. Lucky is portrayed with studied ambiguity: on the one hand as a hero of the underclass who doesn't hesitate to clear out drug pushers from 'his' buildings or rescue his lover's brother from their clutches; but on the other, as a man who routinely uses extreme violence, even murder, to achieve his ends.
Moral ambiguity seeps out into post-apartheid South African society, represented by Lucky's mob-lawyer, his colluding banker (an Afrikaans woman), his teenage sweetheart (a bank clerk who texts information on clients to her mugger brother), and Lucky's one-time crime boss (a softly-spoken but psychotic veteran of the armed struggle who uses his military skills to effect what he calls 'affirmative redistribution').
The somewhat weak ending of the film deliberately appears to leave the moral ambiguity of Lucky Kunene and fellow South Africans unresolved. Interestingly, some reviewers thought the moral of the story was that ultimately crime doesn't pay. I wonder if they saw this because this is what they wanted to see and in fact the question was left wide open. It didn't pay for the Nigerian druglords but what of 'Robin Hood' Lucky Kunene? The disturbing implication of Lucky's situation at the end seemed to me to be that, for underprivileged black South Africans, the economic Jerusalema is still only attainable by breaking the civil and moral law.


Chris Chatteris SJ




 Visit the IMDB page for this film