Posted on: 28th March 2013 |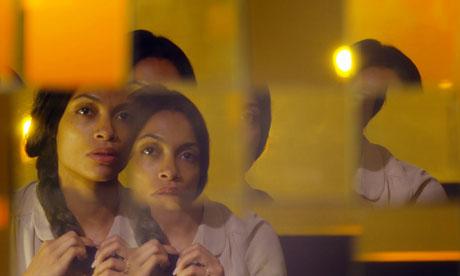 Director: Danny Boyle
Starring: James McAvoy, Rosario Dawson, Vincent Cassel
UK Release date: 27 March 2013
Certificate: 15 (117 mins)


Two years ago I was in the Prado Museum in Madrid searching for Goya's 19th century masterpieces, The Nude Maja and The Clothed Maja. After being directed to the room where they were supposed to be hanging, I found only one of them there and a lonely picture hook where the other had once been placed. I turned to the bored gallery attendant and asked if it had been stolen. She jumped out of her seat to double-check and then sat back down again with a nonchalant detachment. Perhaps it was the one she did not like that had been taken.
This incident came back to me after watching Danny Boyle's art heist psychological thriller, Trance, which has at the heart of its story a stolen Goya and the lives of those trying to find its new location.
Speaking at the premiere, Boyle admitted that making Trance had been an antidote to producing his 'Isles of Wonder' 2012 London Olympic Games Opening Ceremony. He joked that this film was 'its evil cousin'. He must have blunted more than a few pencils in sketching out the ideas that went on to become his astounding take on Britain, Bond, Bolt and beyond, and yet he still had time to produce this stylish, intricate and highly evocative rollercoaster of a movie.
Boyle is a director who tentatively picks you up at the beginning of a film, plays with you for a while and then catapults you at great speed towards the conclusion, not leaving much time to reflect or to really empathise with some of his characters. Trance is as much about style as substance, and the continuous use of mirrors and a thumping soundtrack makes us question what is in real time and what is fantasy.
A relatively simple plot is a hallmark of Boyle's films: for example, the 'Who Wants to be a Millionaire' narrative of Slumdog Millionaire and the lives of self-indulgent Edinburgh drug addicts in Trainspotting. Trance is no exception; we are introduced to Simon (James McAvoy), an auctioneer who loses a stolen Goya in a heist organised by Francis (Vincent Cassel). Simon is subjected to gratuitous torture having lost his memory after a blow to the head, and Francis turns to an American therapist, Dr Elizabeth Lamb (Rosario Dawson), to help him find out where the painting is. Simple enough, you may say, but what follows is a metamorphosis of intrigue as characters change and power shifts continually. Mind over matter becomes a statement of intent. Trance plays with your imagination and you struggle to keep up.
Your empathy for the characters changes as the film progresses and you are not allowed to relax for a moment. The use of flashbacks and the continuous interruption of real time is very similar to that of Christopher Nolan's Inception and Memento. This can be disconcerting and as such the film will appeal to many, but not to all; your enjoyment will depend a great deal on whether you wish a film to drift over you or to draw you in, inviting you to put things in order yourself, the way you wish them to be.
It is always difficult for a film to capture the memories of its characters whilst trying to provide progression in real time. As soon as we can distinguish one from the other we become more confident in understanding the characters' plight, but Boyle continually blurs the edges, which leaves us confused and anxious to know what is real and what is not. But that's exactly what Boyle and the film's writer, John Hodge, with whom the director has had a long association, are brilliant at.
As part of an ever-growing 'London noir' genre, Trance takes its place with the best of them, but doesn't do enough to really stand out from the crowd. Perhaps its lengthy time in post production has taken its toll. It will get your adrenalin going and it is well worth going to see, but if you found the Olympic Ceremony confusing and prefer your art heists no more dangerous than the Antiques Roadshow, then this is not the film for you. It will have a mixed response and although it will not be seen as Boyle's greatest film, it will be seen as another success from this outstanding British talent who has never lost touch with the common man, but has a glint in his eye suggesting that one day he is going to produce a film that will have the international impact that Goya's paintings did in the 19th century. Both push boundaries and both ask us to question where we put our frame.


John-Paul Morrison




 Visit this film's official web site