Posted on: 28th October 2020 |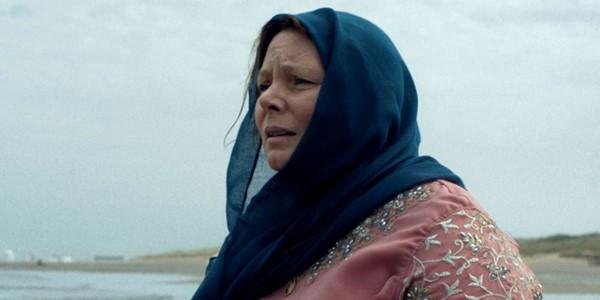 Joanna Scanlan will be most familiar to many people from her role as press secretary Terri Coverley in Armando Ianucci's long-running political satire, The Thick of It. The life of her character in Aleem Khan's debut feature, After Love, is far removed from the Whitehall corridors in which Terri operated (or, rather, didn't operate), but Scanlan draws once again on her intuitive sense of timing and ability to play off her fellow actors in order to bring a situation to unsettling life.
The synopsis of this film will tell you that Mary Hussain (Scanlan), after the untimely death of her husband Ahmed at their home in Dover, finds something suspicious in his belongings and so travels to Calais, where she discovers a secret he has been keeping from her for many years. That description leaves little to the imagination, and so it is not much of a spoiler to reveal that Ahmed had a girlfriend, Genevieve (Nathalie Richard), and a teenage son, Solomon (Talid Ariss). In a somewhat-forced twist that only Scanlan and Richard's performances salvage from the realms of farce, Mary manoeuvres her way into the domestic life of her husband's other family, who are unaware of her identity. It transpires that Genevieve knew of Mary's existence, but only knew of her as 'Fatima', the name that Mary took when she converted to Islam before she married Ahmed; Solomon knew nothing of the other life that his father led when he disembarked on the other side of the English Channel from the ship that he captained.
The film juxtaposes, through Mary's eyes, the two worlds that Ahmed inhabited: the routine and rituals of his life with Mary are crystallised in a voicemail that he left her not long before his death, which she listens to at the same time every day; his more chaotic life in Calais takes the form of a house filled with removal boxes and the fact that Genevieve, unaware of his death, repeatedly tries to reach him on the phone to no avail. What emerges from holding these two in dialectic is, unlikely though it might seem, a touching connection between Mary and Solomon in which both of them find the freedom to share something of themselves, and of Ahmed, with one another.
The composition of the film is almost meditative. The camera movement is minimal and the drama is muted, even when the characters are consumed by grief, betrayal and anger. The visual language is very structural: corridors and doorways frame many of the shots. The cracking and crumbling of structures is also realised on screen, in a fairly obvious metaphor for the way in which Mary's discovery affects the only life that she has known until now.
One structure that Mary does not abandon is her identity as a Muslim woman. That is only questioned once in the film, by a still-unaware Genevieve, who suggests that conversion was a lot to take on. Mary is non-plussed, not by the enormity of what it involved but by the suggestion that it was ever even a choice, given that it was a necessity if she wanted to be with Ahmed. That she still finds a home within the framework of Islam, even after Ahmed's passing, is just one way in which this film shows itself to be a gentle invitation to the viewer to consider the ways in which love has laid the foundations for the structures of their own life.