Posted on: 9th March 2022 |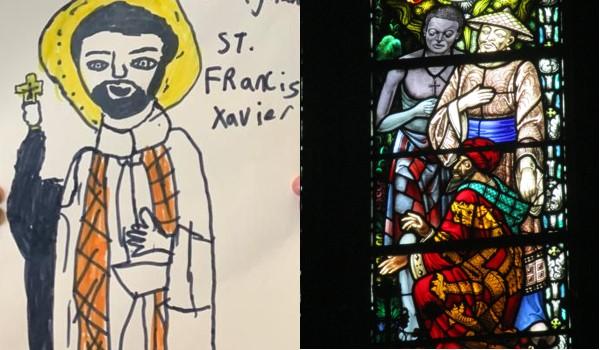 One of Ignatius's first companions was the object of Judith Callaghan's childhood fascination, which matured into and beyond admiration. She introduces the Jesuit who was made a saint 400 years ago and after whom her home church is named: who was 'SFX'?
The Spanish Jesuit and my hero, Francis Xavier, was made a saint by Pope Gregory XV 400 years ago, on 12 March 1622 to be precise.
From my birth until the age of seven, I was a parishioner at St Francis Xavier, Liverpool, affectionately known as 'SFX'. I didn't know much about Xavier then, but I did notice the stained glass windows behind the high altar. Those windows, installed around the time I was born, replaced the original mid-nineteenth century windows which were destroyed in the May 1941 Liverpool blitz. The 'new' windows illustrate highlights from our saint's life. It's all highly coloured, dramatic, almost strip-cartoon style. I loved it aged seven, and I love it even more now that I know more about him. Life took me away from my childhood parish and I didn't return to Merseyside until about twenty years ago when SFX became 'my' church again.
It was family history that took me back there. My great-grandfather and three of his brothers had emigrated from Northern Ireland. They settled in the Everton district of Liverpool in the days when SFX was fast becoming the largest Catholic parish in the country. His children and my father were all SFX-ers.
But there was an unexpected reaction when I walked through the doors again after fifty years. I hadn't seen those stained glass windows since then. What hit me were the exotic images of the figures in the central window. That Chinese man had fascinated me as a child and seeing him again sped me right back through the decades, reminding me exactly where we used to sit and how my mother embarrassed me by singing, in my opinion, too loudly.
That might all seem rather trite, but the return to SFX moved my life into a different gear. During the intervening years I'd become obsessed with travelling. Those window images led to my reading about St Francis Xavier who had clearly journeyed to far-flung places in the days when travel was extremely challenging.
He was born of a noble family in a castle in Javier, a small fortress settlement in Navarre, Spain. At nineteen, he travelled on horse and foot to Paris to study philosophy at the university. He was said to be robust, sporty and charming, and reportedly led a typical student social life. He shared lodgings with Ignatius Loyola, an older fellow Spaniard who slowly, and with some difficulty, introduced Francis to the particular ideas and practices that Ignatius had spent years exploring. Ignatius was working towards gathering men around him to form a new and very active Catholic workforce.
In 1534, Francis and six others took vows in a small chapel in Montmartre. The plan was to go to the Holy Land to win souls for Christ among the Turks and Muslims. They spent a tough time travelling to Rome on foot, with minimal possessions. Francis was thirty by the time they arrived, when Pope Paul III gave them his blessing for their intended voyage as well as some funding, and agreed to them being ordained priests. After Francis and others were ordained in Venice in 1537, they spent some time in retreat and split up to work with the homeless and the sick in various towns in Italy. When they realised travel to the Holy Land wasn't possible because of wars in Europe, they regrouped in Rome, where Ignatius stayed for the rest of his life as the first Superior General of the Society of Jesus, which was officially approved by Pope Paul III in 1540. The rest of the group, which was increasing in number, dispersed to carry out their mission to spread the good news of Christ and his Kingdom, not only in Europe but throughout the emerging known world.
King John III of Portugal wanted missionaries to travel with his exploratory traders to Goa in India. The Jesuits got the job. It took Francis about 100 days to travel the 2000 miles to Lisbon, and then over a year to make the sea voyage to India. Francis never returned to Europe, and spent the rest of his life travelling between and working in India, Malaysia, Indonesia and Japan. He eventually died on Sancian Island off the coast of China while trying to access the mainland despite being banned as a foreigner.
The last ten years of his life were packed with long and dangerous voyages by sea and land. He preached the good news to thousands of people of different cultures and religions, often with minimal knowledge of their language. He established strong Christian bases from which later Jesuits and others built on his work. He was in danger many times, both from opponents to his efforts as well as disease. But he was brave, determined and totally confident he was doing the work of God. He had the gift of being able to engage with all sorts of people and the ability to work with the basics and build on what was available.
He has certainly inspired me to be braver in talking to others about my faith and spiritual matters. And doing that has strengthened my faith. Surely, we all need quiet confidence, bravery and pride in our Christianity in an increasingly secular society.
A natural progression for me was to learn more about St Ignatius, the Jesuits, their history and the work they do today worldwide; work still focused on the margins, capitalising on the particular gifts of each Jesuit. Ignatian retreats – in person and on Zoom – have become part of my life, as has the Christian Life Community. And I've been grateful for the insights and support I have received, and the interests I have gained through being part of the Jesuit family since I discovered St Francis Xavier. His two main gifts to me are pride in my faith, and the knowledge that the Holy Spirit starts work early in our lives and pops up again and again when needed.
If you want to delve deeper into Xavier's rich and amazing life, read the biography written by James Brodrick SJ. And if life takes you to India, don't miss paying homage to SFX in person at the Basilica of Bom Jesu in Goa where his body is preserved.
Judith Callaghan is a parishioner of St Francis Xavier, Liverpool.