Posted on: 24th January 2014 |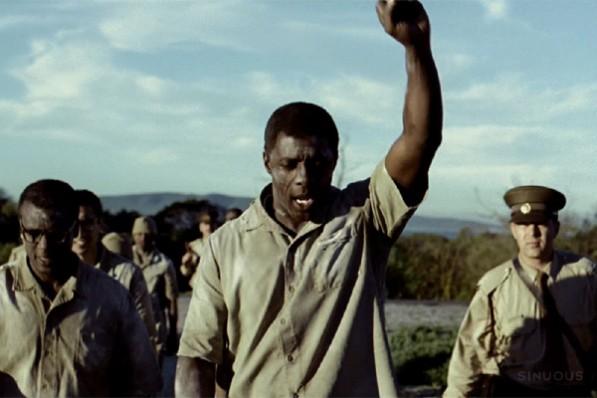 Director: Justin Chadwick
Starring: Idris Elba, Naomie Harris
Certificate: 12A (141 mins)
UK release date: 3 January 2014
Nelson Mandela's long walk finally reached its destination on 5 December 2013. A life of struggle and passion ended on the same day that the biopic of his life, Mandela: Long Walk to Freedom, premiered in London. It is a fitting end, in a way. This film will always be looked upon as the prime account of Mandela's life. It encapsulates everything great about the man, it spans decades, its impact sprawls globally and it teaches a very valuable lesson at its heart.
Contrast is one of the major themes of the film: of private, family life and public calling; of all-pervading white supremacy and the black struggle for freedom from oppression; of nascent, peaceful protest and violent freedom fighting. This film captures very well the juxtaposition that was at the very heart of Mandela's life, and a strong central performance from Idris Elba makes this struggle humane and understandable.
The film opens with a young Mandela bathing in the waters of a rural river, washing himself in a purification ritual that signifies his transition from boyhood to manhood. He washes a white chalky substance from his skin. From this moment on, it is as if Mandela learns to truly respect the skin he was born in and stops trying to become what his white oppressors want him to be.
The film takes in some of Mandela's early career as a lawyer. It charts the building of his brazen belief in full democracy for South Africa, from his early political involvement with the ANC to his decision to take up arms to fight for the freedom that never seems to be coming. Mandela's first marriage falls apart as he is on the campaign for freedom and is distracted by the female attention that inevitably comes his way.
It is then that the defining relationship of Mandela's life takes centre stage. He meets a beautiful and strong young woman, Winnie (Naomie Harris). Their marriage is one that is built around the armed fight for freedom. Not long after they marry and have their two children, Mandela is arrested. This is where the true struggles begin. Isolation and anger mar nearly three decades of time apart for the couple; Winnie becomes more militarised while Mandela strives for freedom through more political means.
The transition from armed freedom fighter to peaceful political activist was not east for Mandela. He was met with accusations of being a traitor or belittling the struggle of his people. But the increasingly numbing violence that characterised South Africa in the second half of the twentieth century was such that Mandela saw no other way but to pursue peace. His desire was not to treat the white man as they had treated him, but rather 'to be better than them'. The urge for humanity, for love to win the day, was too strong for Mandela to ignore. It was the ability to do what was right when all around him were baying for blood that really set this man apart as a true leader.
The name his father gave him meant 'troublemaker', and though Mandela testifies in the film that he never wanted to cause trouble, the actions of his life suggest otherwise. But the trouble Mandela sought throughout his life was not necessarily always sinister. He constantly chose the path less travelled, the one that did not seem immediately obvious – his life was one instance of troublemaking after another, because he ultimately believed in the end for which he was aiming; a free, democratic South Africa.
This film exposes a cheeky stubbornness in Mandela that does not necessarily equate with the peace-loving grandfather image most people have come to have of him. He was indeed a troublemaker, sewing seeds of disquiet and anger, all aimed fiercely at the authority which he could not recognise. Mandela believed deeply in the cause for which he gave his entire adult life, but it was only at the end of that life that he could look back and see that that cause was not just South African political freedom, but an ultimate freedom of the human heart. This freedom – the freedom from hate, which itself has to be learned – is the subject of the final words of the film. It is the freedom of unconditional love, and the long walk to that freedom is one that every human life takes.
Mandela's life served as a beautiful example of how to walk this journey. This film is a way of immortalising that example for generations to come.