Posted on: 6th March 2008 |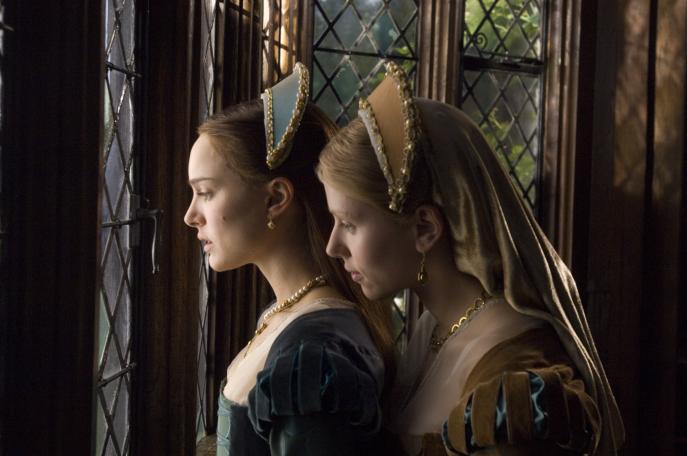 Director: Justin Chadwick
Starring: Natalie Portman, Scarlett Johansson, Eric Bana
UK Release date: 7 March 2008
Certificate: 12A (115 mins)


This might seem like an historical film but The Other Boleyn Girl is much too concerned with personal relationships to care about events beyond its characters. The film tells the story of Anne Boleyn and her sister Mary, whose desires for love and marriage are corrupted when Henry VIII crosses their paths. As a tale of sisters navigating vice and folly in the name of courtship one might liken it to Jane Austen but the film is too sensational to have anything valuable to say about morality. What this film is, is a soap opera. It's Crossroads with costumes, Emmerdale with farthingales, and if you take it on that level you may well enjoy it.
We join the Boleyn family on the wedding day of the kind and innocent Mary (Scarlett Johansson). She is to marry her love but is nervous about her wedding night. Such is their bond, older and wiser sister Anne (Natalie Portman) easily reassures her sister and all is well once more. However, this idyllic scene is soon shattered when they get a visit from their uncle, the Duke of Norfolk, a member of Henry VIII's court. Rumour has it the King is frustrated as Katherine of Aragon has still not given him a male heir and spotting an opportunity, Uncle Norfolk arranges for Henry to visit the Boleyn estate in order for Anne to seduce him, become his mistress and raise the family's position in society. Anne is offended for about two to three seconds then commits to the scheme with gusto. Too much, in fact, for she causes Henry to have an accident while hunting and he injures, amongst other things, his pride. So while nursing the monarch it's Mary who becomes his object of affection, Anne gets jealous and thus begins the sisterly one-upmanship that escalates to the English reformation and beyond.
And it really is that simple. If The Other Boleyn Girl is to be taken in any way as accurate, Henry VIII had England quit the Catholic Church because Anne Boleyn made him frisky but wouldn't relent until she was made queen. But this isn't even the most ridiculous scenario. When Anne miscarries, she suggests that her brother re-impregnate her before anyone notices. Just like putting a serial killer on Coronation Street, it's all about sensationalism and melodrama. That The Other Boleyn Girl is too wrapped up with its own plot to bother with any greater theme or subtext is perhaps its saving grace. Were it attempting to be anything other than a bodice-ripping romp, it would have a lot to answer for.
Much as been made of 'foreigners' being cast in the three main roles of this British film, but the casting is one of the film's strongest elements. Scarlett Johansson has never projected an air of intelligence or authority but this makes her Hollywood's leading innocent. Here, her purity is used to excellent effect. Meanwhile, Natalie Portman is equally successful as the confident and calculating femme fatale. Australian Eric Bana, best known for playing violent gangster Chopper Read and The Incredible Hulk, goes against both his own and Henry VIII's stereotyping and plays the king as a man-child spoilt by privilege, pathetic and easily manipulated. British actor David Morrissey deserves special mention. His turn as the fiendish Uncle Boleyn is extravagant in its anger and bluntness and seems to be tuned into the pantomime that this film really is.
The Other Boleyn Girl is based on Phillipa Gregory's successful 'historical novel' of the same name, which weaves its fiction around a simple historical template. In turn, the film adaptation takes its own liberties, so this film was never going to be factual. But by using figures from such a famous and well-known historical period, there is going to be that expectation. The fact that every line spoken ends with an exclamation mark and every scene is soundtracked to within an inch of its life should soon correct this expectation but perhaps by then, it will be too late.
Peter Quinn
 Visit this film's official web site