Posted on: 4th March 2011 |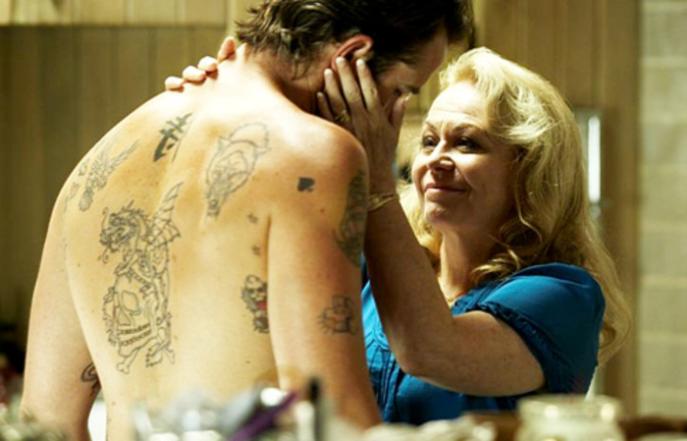 Director: David Michod
Starring: James Frecheville, Joel Edgerton, Ben Mendelsohn, Guy Pearce, Jacki Weaver
UK Release date: 25 February 2011
Certificate: 15 (113 mins)


Our appetite for watching unhappy families continues to be fed, and what family can be unhappier than the crime family? Indeed the crime family troupe as a source of drama has been a source of inspiration to Hollywood classics, like The Godfather's Corleones, and the British small-screen, Shameless's Maguires. From Australia comes a weighty addition to the genre, a suspenseful thriller called Animal Kingdom. Fascinatingly, the family that most resemble the one in the film is not any crime syndicate, but that of the English Catholic classic Brideshead Revisited, the Marchmains, an observation to be more fully explained after the plot.
A young man, Josh (James Frecheville), finds his mother dead from a drug overdose in their flat. Being only seventeen he goes to live with his grandmother, Janine 'Smurf' Cody (Jacki Weaver) his uncles, Craig (Sullivan Stapleton) and Darren (Luke Ford), and their friend, Barry (Joel Edgerton). The dodginess of the family is made clear by the constant police surveillance and the absence of one of the uncles, Pope (Ben Mendelsohn), who must stay away because he is suspected of a serious crime. It turns out that all his uncles are involved with armed robbery and drug dealing to varying degrees. Josh quickly becomes caught up in the lives of the family, as the consequences of their crimes take their toll one after another, all the while Josh is supported by his beautiful girlfriend, Nicky. The plot then follows the destruction of the family as the violence escalates and they are hunted down by Homicide Detective, Senior Sergeant Nathan Leckie (Guy Pearce). Throughout, Josh is constantly tested with several moral choices, having to weigh up the values of family loyalty and justice against each other.
The moral questions are pertinent, especially for those in societies where family values are oppressive. Having grown up in the Philippines, I recognised the problems about associating the family happiness as the most important unit by which one discerns an action's moral worth. While the complaint about the destruction of the family in the West is often heard, one cannot forget the stifling environment that a domineering family can have. 'For the good of the family' becomes an excuse that can justify any kind of heinous act. As an example of this kind of reasoning I constantly saw growing up, politicians justifying their corrupt behaviour by saying that they were looking after their families.
The film's upholder of this kind moral system is the imperious grandmother, Smurf, a beautifully terrifying performance that garnered Australian veteran, Jacki Weaver an Oscar nomination. She creates an image of the perfect matriarch, resembling an aging Kylie Minogue in her synthetic sweetness as a mask of femininity, loving and nurturing, and in this way resembling the character of Waugh's Lady Marchmain. Both represent a certain type, probably familiar to us all, who maintain their dominance by constantly giving out kind and support but who in turn underline people's worst characteristics. Smurf encourages her children's flaws and reinforces them by offering her form of affection relentlessly, so that they never are able to grow out of their dependence on her and constantly need her presence.
It is the tyranny of the servant, who gives people so much that such people become indispensable crutches to other people's lives. The eldest brother, Pope is the ultimate monster of such a love, part child and part man, unable to control his emotions or to read reality. When he gets his inevitable come-uppance though, there is a real sense of tragedy there, because, though his lack of humanity makes him a dangerous animal, he seems one doomed by the habitat of manipulative care nurtured by his mother.
Smurf shows us what love is often believed to be, but what it really is not, and the problem of distinguishing on what feelings actions are really based on. When our images of sainthood resemble her, always giving and never asking for anything in return, then an unhealthy vision of charity is strengthened. The patronising nature of such behaviour is really meant to increase the power of the giver despite their self-delusions of love. Families and churches should be communities of servants that not only give but allow for the weakness needed to be receivers. This nuanced and thrilling crime film that does not rely on action sequences sheds light on how distorted love can lead to death. Instead, family drama propels the narrative, rather than the violence portrayed. When action sequences are present, they add an edge of dark humour to the feature, being fully established in reality and without romance.
Newcomer David Michod's creation speaks of people, wonderful characters pitch-perfectly acted across the board, who drive a tragic story dramatically forward by effectively asking profound questions about the creation of evil and the force of justice.


Stefan Garcia SJ




 Visit this film's official web site