Posted on: 12th March 2010 |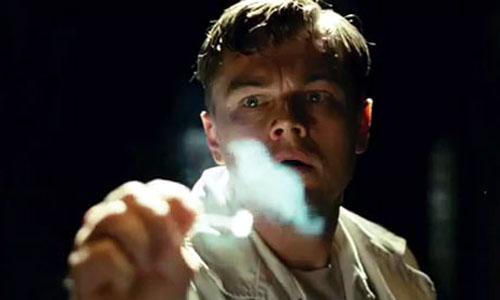 Director: Martin Scorsese
Starring: Leonardo DiCaprio, Mark Ruffalo, Ben Kingsley,Emily Mortimer, Michelle Williams and Max von Sydow
UK Release date: 12 March 2010
Certificate: 15 (137 mins)


Shutter Island almost defies description. Films such as The Manchurian Candidate, Spellbound, and The Others spring readily to mind, as do the words ripping yarn and gobbledygook. But perhaps the best description of this deeply disorienting, edge of the seat tale is 'masterly', both in its direction and performances. 
Set in 1954, Leonardo DiCaprio and Mark Ruffalo play two US Marshals, war veteran Teddy Daniels and his new sidekick Chuck Aule, who in gale force winds take the ferry from Boston, Massachusetts, to investigate the mysterious escape of a murderess from a locked room in a hospital for the criminally insane on Shutter Island.
Teddy smells a rat the moment he and Chuck land on the sequestered island, which was used as a fort during the Civil War. After being driven to the hospital by a phalanx of prison guards, the two men are forced to surrender their guns. And while the hospital's chief psychiatrist Dr John Crawley (Ben Kingsley) is courteous as he explains in detail the present advances in the treatment of the insane as compared with the past, his evasions make it difficult for Teddy to gain access to either the hospital's inmates or their files.
Accompanied by Crawley, Teddy and Chuck inspect the room occupied by the escaped murderess, a war widow, Rachel Solando (Emily Mortimer), who killed her three children by drowning, and is in denial as to their deaths.
Teddy finds it impossible to believe that the insane woman could have 'evaporated through the walls' without help, and when he discovers a cryptic note in Rachel's room which refers to 'the law of 4', as well as asking the question, 'Who is 67?', Teddy begins to suspect there is more to Rachel's 'escape' than he is being told. 
Why hasn't Rachel been found by now? Rachel wasn't wearing any shoes when she escaped from her room, and the hospital is perched on steep cliffs above rolling seas. Besides, outside the facility's formidable walls, a Category 5 hurricane is building, and there is torrential rain.
The more Crawley and his German colleague, Dr Jeremiah Naerhring (Max von Sydow), frustrate Teddy's investigation, and respond to his demand for answers with oblique comments and questions of their own, the more Teddy is convinced that the doctors are hiding something, and decides to explore the island on his own.
As a war veteran, Teddy was present at the liberation of Dachau, and saw first hand the results of the Nazis' 'medical experiments' in the death camps. Now, in the throes of an ongoing 'cold war', there is talk of 'brainwashing' and other forms of mind-control.
But it is not until Teddy comes to grips with nightmares from his own past, his war-service and the death in a house fire of his beloved wife Dolores (Michelle Williams), that he is able to solve the mystery of Shutter Island, and escape.
Based on Dennis Lahane's psychological thriller, Shutter Island is an admixture of styles and themes (from Gothic horror and the social realism of film noir to schlock), which against all the odds, Scorsese the master puppeteer orchestrates with all its complex strands into a satisfying and convincing whole.
In this, Scorsese is aided by Laeta Kalogridis' deft script, his own genius for penetrating into the soul of any story that grabs his imagination, and his choice of actors, all of whom appear to trust Scorsese's instincts (and therefore their own) implicitly.
DiCaprio brings an emotional depth to Teddy Daniels that lifts the story from melodrama or thriller to high drama, and the film's conclusion is singularly memorable and thought provoking. And in age where it is all too easy to displace genuine artistry with CGI, there is in all the sequences – from 'normal' reality to flashbacks and several haunting, hallucinatory sequences – a dizzying sense that beneath the surface of all things there are endless layers.
Just as DiCaprio reaches within himself to transcend bathos and create authenticity of character, so too does Michelle Williams (Brokeback Mountain) as Teddy's wife Dolores. Excellent, too, are Mark Ruffalo (Where the Wild Things Are), and Patricia Clarkson (Whatever Works) as Rachel Solando 2.
Ben Kingsley and Max von Sydow enhance any film with their believability and charisma, and in this case provide Shutter Island with just the right amount of melodrama and suspicion to throw film-goers off-guard until the end.


Jan Epstein

This review was originally published at www.catholic.org.au