Posted on: 17th June 2009 |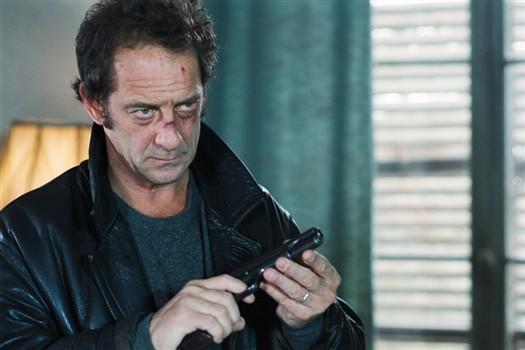 Director: Fred Cavay?
Starring: Diane Kruger, Lancelot Roch, Liliane Rovere, Olivier Marchal,Olivier Perrier, Vincent Lindon
UK Release date: 5 June 2009
Certificate: 15 (96 mins)


About five minutes in to Anything for Her, literature-teacher-turned-house-husband Julien, his executive wife Lisa and their baby son Oscar, are preparing for the day: you know the sort of thing – devoted dad in his late forties carefully, caringly spoon-feeds his angelic baby son some unspeakable pink slop, while radiant gallic yummy mummy scoops up papers into her briefcase….and scrubs the bloodstains of the day before off her size ten Burberry macintosh. At this point, the full force of the French law – jump suits, red armbands, handcuffs etc. – smash their way into the couple's fashionable and book-lined flat, in a manner that British viewers will more usually associate with drug-busts in run-down north London estates and episodes of The Bill. The impact of the moment is compounded by the time that the camera has spent dwelling on the comfortable, educated and loving domesticity of the family's life: the passionate embraces in the lift after a night out; the relaxed exchanges with the baby-sitter (a sixth former, perhaps?); the tastefully filmed intimacies of middle-aged love-making. 
But then we knew something was going to happen. Was it because no-one's life could be this perfect (middle-aged and still passionate – even if they are French?), blessed with two successful careers, a late pregnancy, a smart flat and a beautiful baby? Such assaults on middle-class normality are reminiscent of Michael Haenke's Funny Games and Hidden. In those cases the violence was anarchic, nihilistic, or the revenge of the excluded and forgotten; in Anything for Her it is an almost Kafkaesque explosion of inexplicable state violence.  And whereas Haenke takes contrasting symbols of establishment existence and remorselessly unpicks them from without, Fred Cavayé makes Julien a warrior for love and the nuclear family, a warrior waging war against the state that has (unjustly, it appears) blown his world apart.
It's not giving the plot away to explain that with Lisa convicted of a crime we are allowed to believe she didn't do, and all legal courses of action exhausted, kind, loving Julien resorts to the illegal, hatching a plot to free her from the grim women's gaol in which she is incarcerated (a none-the-less stylishly French establishment of steel and concrete, not unlike the railway station at Calais Frethun). 
Now, if you think about it, plotting to break your beloved wife free from prison (even if she is innocent, and even if you did have a good sex life, and even if you still love her) does raise a number of complex moral questions about the boundaries to love, about recourse to violence when democratic structures fail, and about the relationship of the individual to the collective. But as Sight and Sound notes, this film doesn't actually encourage one to think. That's because Anything for Her is a stylish thriller: a gripping, cleverly plotted, good-looking, seat-clutching thriller with some glorious twists and two places where this reviewer was moved to tears (to the near incredulity of his female companion, it should be noted). 
These two moments were to do with the poignancy of family relationships that are one of the sub-plots of the piece. It's impossible to describe either fully without spoiling the film for viewers, but look out for layers to the father-son relationships, and the entire essays of masculinity that are spoken by an angle of the shoulder, a stare, a glance at the floor.
Berthold Brecht would have hated this film, because it's so watchable and because it doesn't disturb middle-class values. Hard-working middle-aged professionals will relish the conversion of an ordinary 'homme du monde' from literature teacher into a Robin Hood character who turns out to be rather handy with a 9mm automatic pistol (perfectly credible, incidentally). On the other hand, his lessons looked rather dull: but then, he did have a number of pressing things on his mind. Wonder if the head-teacher noticed?


Ambrose Hogan




 Visit this film's official web site