Posted on: 5th February 2009 |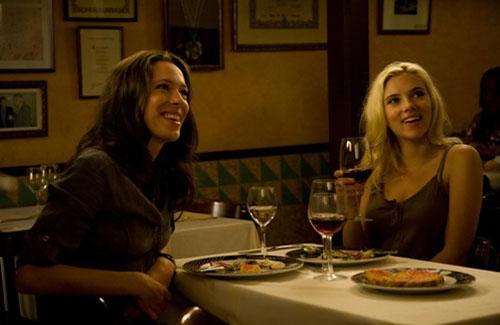 Director: Woody Allen
Starring: Javier Bardem, Pen?lope Cruz,Rebecca Hall, Scarlett Johansson, Chris Messina
Certificate: 12A (96 mins)


Woody Allen has a penchant for making films that draw out existential questions from extraordinary situations, situations that are inextricably linked to the places in which they occur.  Prior to Vicky Cristina Barcelona, Allen's recent films, including Matchpoint (2005), Scoop (2006) and Cassandra's Dream (2008),were staged in London.  As the title makes clear, Allen chose the much warmer Catalan capital of Barcelona for his latest offering.  This fast and forward-thinking city, home to artists of every sort, provides a fine setting for a story that moves quickly and takes some unexpected turns. 
Vicky Cristina Barcelona begins without much fanfare.  Vicky (Rebecca Hall) and Cristina (Scarlett Johansson) are two American twenty-somethings who escape to Barcelona for what they believe will be an uneventful summer holiday.  The story kicks in when Vicky and Cristina make the acquaintance of Juan Antonio (Javier Bardem), a Spanish artist who quickly woos them into accompanying him, via private plane, to the Asturian town of Oviedo.  Juan Antonio acts as a fine Spanish caballero; he introduces them to the local cuisine and the wine that accompanies it – and he seduces Vicky.  Though she is engaged to Doug (Chris Messina), a straight-laced American, Vicky is charmed and cedes to Juan Antonio's advances. 
Eventually, Cristina is equally charmed and as she is not betrothed, she moves in with Juan Antonio. But, and here's one of the unexpected turns, Juan Antonio has not altogether ended his relationship with his ex-wife, Maria Elena (Penélope Cruz).  Though strikingly beautiful, Maria Elena quickly reveals herself to be highly unstable.  Despite this, she wins the confidence of Cristina and Juan Antonio (if she actually ever lost it) and a three-way relationship is established.  Alas, predictably, the situation becomes too bizarre and breaks down.  All the while, Vicky exudes both disapproval and jealousy of the relationship.  By this time she is married to Doug, who simply disapproves.  He would certainly also disapprove if he knew of his wife's reconnection with Juan Antonio.  However, straight-laced Doug is kept in the dark and never discovers that Vicky goes to Juan Antonio's home and suffers minor injuries from a bullet fired by the now definitively insane Maria Elena.  As I said, it's a fast moving story.
In the wake of such drama, Allen concludes the narrative by summarising the desires of the two American women who set out for Barcelona.  Vicky remains married to Doug and they return to New York, intent upon building their future.  Vicky has had her fill of Spanish caballeros and beautiful, dangerous ex-wives.  In the end she opts to stick with what she always believed she desired.  In contrast, Cristina continues along her path of discovery without any definitive plans. She is certainly further along that path than when the film began: she is now certain that three-way relationships, especially when they include people who perhaps should not be permitted to freely roam the streets, are not the way to go.  And what becomes of Juan Antonio?  He's probably creating art and wooing women.  And, if Maria Elena hasn't been imprisoned, it's more than likely that he is still mixed up with her.
While somewhat tragic, the predicaments of the characters are also humorous.  For example, Maria Elena's insanity is so absurd that it elicits laughter.  At the same time, their situations are not wholly unrealistic, for they reflect the internal debates that many people confront: where am I going?  Is this really what I want?  Is it good to live in this way?  In Vicky Cristina Barcelona, we witness how some people attempt to address these questions in their lives.  If only we all could search for our answers while on holiday in Barcelona.


John Friday




 Visit this film's official web site