Posted on: 21st January 2011 |
Publication details:
Continuum, 2010 223 pages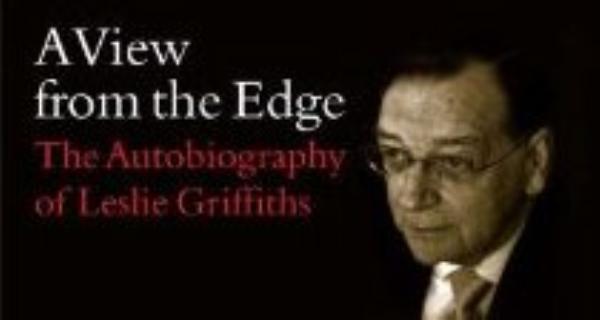 Some forms of Christian social thought or calls to engagement fall victim to the curse of irrelevance at the very moment that they claim to be at their most trenchant. This is often due to a neglect of one or more of the dimensions that combine in those such as the late David Nicholls and the outstanding Ken Leech on the Left, and Richard Neuhaus and Mary Ann Glendon on the Right: real world understanding, intense spirituality, thoughtful social criticism and pastoral or political practice. Leslie Griffiths' short, accessible, wise and inspirational autobiography places him in this group of afore-mentioned individuals, and is all the more refreshing for the hesitation with which its subject has approached the task of recording his story.
Leslie Griffiths is today a Member of the House of Lords, a former President of the Methodist Conference, and an accomplished broadcaster and writer. He is also the Superintendent of Wesley's Chapel in City Road where he leads a thriving congregation at what is the closest Methodism has come to creating a shrine to its great founder. But these present pastures have only been reached through weaving a rich tapestry of experience, often in the most demanding of human terrains.
Griffiths' father left the family dwelling when the future Peer was young. Despite poor health due to her work in local industries, Griffiths' mother tenaciously built a stable home for the young boy and his brother. Money, food and comfort were scarce but the family of three was secure. In this domestic setting of Burry Port in South Wales, bonds of love and friendship were forged with his mother and brother that lasted until their passing. From this rock-like base, Griffiths made his way by academic merit to Cardiff University and a spirited atmosphere where the young Neil Kinnock was also beginning his journey to national prominence.
But while Kinnock focused on politics, Griffiths had discovered Christ. After Ministerial training at Wesley House, Cambridge he soon found himself in pastoral contexts which fostered his most fundamental personal and theological formation, as a result of a move to Haiti. Here, in one of the world's poorest spots, Griffiths' Christian worldview becomes that of one 'from the edge' coming increasingly to a perspective that puts the globe's poor first.
Neither is Haiti a passing gap year or a fleeting pastoral placement before 'proper' work can be resumed. Griffiths returns to the UK but is called repeatedly back to Haiti. He travels there often, writes a PhD at SOAS on its history, and becomes one of the country's foremost advocates having settled back in Europe. In fact, unlike so many religious voices in the media, he rises to broadcasting prominence because of his work on Haiti rather than through the Radio 4 Thought for the Day slot that will make his name in a new way in the years that follow.
As a young Minister, Leslie Griffiths determines to rebuild his Church. While the works are underway it is the local Jesuit parish that provides ecumenical hospitality and from this point forward close relations with the Society of Jesus are a consistent feature of his life. Later, it is with joy that he discovers that a new role in London will situate him close to Heythrop College and so allow him to renew this acquaintance. The Jesuits' original kindness has borne rich fruit through this relationship.
Griffiths' openness also allows him to engage in conversation with other religions. A significant contributor to the Council of Christians and Jews, his reservations about some Israeli security enthusiasms are combined with a fundamental opposition to anti-semitism. This is in itself notable at the current time when the Jewish Board of Deputies is so concerned with the Methodist Conference's perceived embrace of Palestinian radicalism.
At moments, from the pages of A View from the Edge, one senses the frustrations that such a gifted pastor, writer and communicator must have suffered. Even Churches are not immune from jealousy and they are certainly not devoid of internal politics when change is in the air. Just when it seems that one Methodist mission will close in on Griffiths' gifts, another Circuit calls him to their aid, actively longing for him to contribute on the national and international stage. What follows is a period of spiritual flowering from which Christians – and the poor – of all backgrounds, have benefitted.
For all its importance for the history of British Christianity, and the 'high powered' impact of Lord Griffiths' life, an endearing feature of the prose of this wonderful book is its lack of superiority complexes, its lightly-worn learning and its intense humanity. As such it is a work from which any parent, child, seeker or clergyperson can take consolation and encouragement, as well as one which will no doubt earn many citations in doctorates of the future.
And in times when so much Christian social thought runs the risk of irrelevance while protesting profundity, such prose should be celebrated unreservedly. Buy a copy for your own encouragement – and another for a friend!
The reviewer, Francis Davis, is a columnist on The Catholic Times .