Posted on: 17th June 2013 |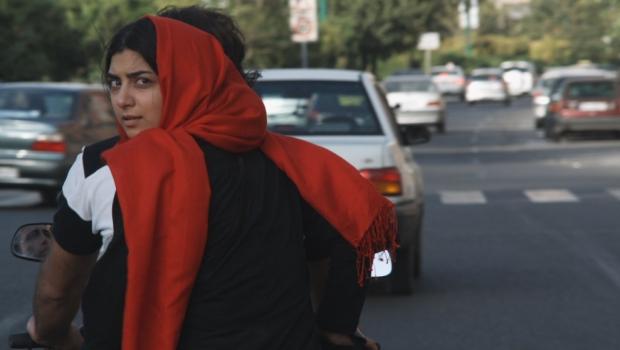 Director: Tina Gharavi
Starring: Micsha Sadeghi, Shiraz Haq, Christian Coulson
UK Release date: 17 June 2013
Certificate: 15 (93 mins)


It is unusual to see a list of credits at the end of a film in which many of the crew do not get a mention. As Shiraz Haq, one of the lead actors, explained at the beginning of a screening of I Am Nasrine, this is because to include their names after their clandestine camerawork would be to jeopardise their safety in Tehran. Even the film's writer and director, Tina Gharavi, who managed to smuggle footage out of Iran, will never be able to go back to her country now. So it is a real testament to the crew's courage that this film was nominated for a BAFTA in 2012 and will be screened in different venues during Refugee Week, 17-23 June 2013. It is dedicated to all those who come to find a better life in the UK.
The film begins in Tehran in May 2001, where Nasrine (Micsha Sadeghi), who is trying to live her life as a teenager in a restrictive society, is arrested. As a result of this and of what happens in the police station, she is ordered by her father to go with her brother, Ali, to England. We see a little of their journey across the desert and as stowed away human cargo through the docks, to the asylum office in the North East of England. On hearing about the asylum system on arrival, Nasrine tells the officer: 'we just want to be somewhere where we can live, where we can breathe'.
Nasrine soon begins to thrive among the local traveller community having been welcomed by her new friend Nicole. Meanwhile, Ali struggles to feel comfortable with his emerging sexuality. The story parallels the tentative relationships between Nasrine and Nicole's brother Leigh, and Ali and his admirer Tommy, as the siblings try to negotiate the terms of their new life. Their friends' affection for them deepens and, although curious to understand them – 'What happened in Iran?' 'Things' 'Bad things?' 'Yeah' – they do not pry further or discriminate.
We see the realities of life for asylum seekers pre- and post-9/11: being spat at on the estate; working while always in fear of having to go on the run – 'immigration took everyone'; learning to cook different food; swapping shoes in a charity shop; and all the while telling parents back at home by telephone not to worry – 'it's paradise'. Nasrine castigates her brother: 'we come here and now you start praying' and he responds, 'I have more to pray for here'.
Nobody has it easy on their poor estate and in the surrounding neighbourhoods. Still, with the exception of some neighbours, the local community (her headteacher, his boss, her friend's mum, his colleagues) tries to help Nasrine and Ali settle and feel at home. And yet, tragedy strikes and Nasrine has to cope with far more than she or the viewer might have expected. At this point in the film, I put down my reviewer's pen and book, and with tears streaming and heart breaking, I longed to make it better.
There are several visual motifs in the film: a red scarf trying to break free in the wind; horses being broken in or roaming wild; rides on the back of a scooter; walks along the beach. Nasrine does not run from her situation, but breathes deeply what oxygen she can find, never reckless, but dignified and courageous. This film is moving and captivating in the way in which it depicts beauty and tenderness in relationships, and what it means to build trust and be family in a new country. The cinematography is warm, gentle and respectful, especially in scenes of intimacy or violence. The camera does not judge, but gives Nasrine the freedom that her situation denies her to tell her story. As the lyrics to the song that accompanies the opening sequence say, 'Welcome to your life, there's no turning back.'


Kate Monkhouse




 Visit this film's official web site

 Refugee Week

 UK screenings of I Am Nasrine during Refugee Week