Posted on: 17th February 2011 |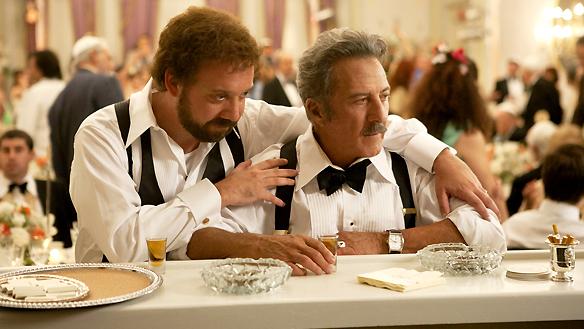 Director: Richard J. Lewis
Starring: Paul Giamatti, Rosamund Pike, Minnie Driver, Dustin Hoffman
UK Release date: 28 January 2011
Certificate: 15 (132 mins)


As award season gets underway I think it is fair to say that the films that take up the most space in newspapers, magazines and the public's collective consciousness are those films that are 'hotly tipped' for Oscars, Baftas and the like. But in the meantime certain films such as Barney's Version have gone largely unnoticed. That's not to say it is in any way a low budget film – especially when one looks at the names of the cast: Paul Giamatti, Dustin Hoffman and Minnie Driver. But interestingly, it is a film that has flown under the radar of many people and perhaps undeservingly so.
Adapted from Mordecai Richler's novel of the same name, Barney's Version tells the story of the rash, impulsive, heavy drinking, olive-oil-merchant-cum-TV-producer Barney Panofsky (Paul Giamatti) and the turbulent relationships he has forged over the course of his life. From the start we are treated to what are perhaps two of Barney's most enduring relationships; whisky and cigars. Unsurprisingly these two handy tools of any world-weary middle-aged man's life punctuate the three marriages in Barney's life.
Whilst Barney is, at the very start of the film and the end of his life, a world-weary single malt guzzler, we are taken back to 1970s Rome. Here, in a time of bad haircuts and questionably wide flares, Barney (now an olive oil dealer) and his bohemian friends – largely writers, artists and raggle-taggle ne'er-do-well-ers are busy writing novels, selling paintings and womanising. Barney, however, the group's philanthropist, is engaged to the beautiful if rather mentally unstable femme fatale, Clara (Rachelle Lefevre). Of course, just as his friends warned him, the marriage is short-lived with Clara choosing to end her life not long after the miscarriage of their first child.
Barney, still flirting with the boundaries between being a whisky connoisseur and a professional alcoholic, is whisked off to meet his second wife, the boring and aptly unnamed, brattish princess type character played by Minnie Driver, the highly-strung daughter of a wealthy Jewish family. We are treated to their brief courtship during which we are introduced to Barney's slightly eccentric and delusional father, Izzy (Dustin Hoffman). Hoffman steals the show somewhat, delivering his punch lines at the couple's engagement dinner with maniacal wit and world wise charm. But perhaps the highlight of the film comes during the couple's Jewish wedding. After the speech giving, backslapping and other rituals, Barney and his father get drunk together, much to the disdain of the bride's family. Hoffman puts his comedic skills to use when, at the end of the wedding, he kindly gives Barney his old police gun, which he has tactfully wrapped in the Star of David wrapping paper.
But it is at his own wedding where Barney finds his true love, Miriam (Rosamund Pike), who is ironically not his wife. And, in an absurd turn of events, Barney is driven to lengths that would drive most people insane. He is in fact driven to the point of breakdown until he is united with Miriam whom he pursues with such drive and determination it makes one wonder where he gets time to fit in all the drinking and chain smoking.
Without spoiling the end of the film, I think what Lewis manages to do is to stress the importance of memory and its relation to the present. We are taken on a journey back and forth between Barney's past and Barney's tragic present. But perhaps where Barney's Version succeeds is that unlike so many films it is not merely a story of good versus bad. Barney is neither saint nor devil. Of course there are aspects of his personality which are deplorable. Though Barney must live with the guilt of the things he has and hasn't done it is important to remember that Barney, like all the other characters in the film, is merely trying to find his own way through life – of course with the help of a bottle of whisky and a Cuban cigar!


Michael Bateson-Hill




 Visit this film's official web site