Posted on: 29th October 2010 |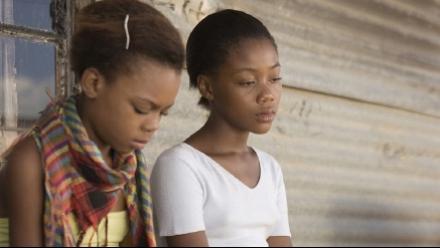 Director: Oliver Schmitz
Starring: Khomotso Manyaka, Lerato Mvelase, Harriet Lenabe, Aubrey Poolo, Keaobaka Makanyane
Certificate: 12A (100 mins)


Life, above all – the title really sums it up; this is a moving drama that tells of the mystery of life in all its complexity and obscured beauty, but – above all – it is a story that is concerned with illustrating the importance of human life. That is to say: the importance of life as regards respect for individual freedom, embracing the various forms of love (and the pain that ensues when it's lost), the responsibility that one life has to another, and finally; accepting death – whenever it comes.
The film opens with a beautiful song sung in Pedi; this is one of the eleven official languages of South Africa. The singers' melodic voices chant 'open the gates'; this allows for a virtual invitation, coercing the audience to enter the enticing world of the small town of Elandsdoorn, located just outside Johannesburg. Sadly though, the aural pleasure is superseded by the visual horror of the opening scene: where a young mother, Lillian, played by Lerato Mvelase, sobs whilst cradling her dead child. Lillian, is a mother of four children; one having just died. She is married to Jonah, a drunkard, with whom she had three children. Her eldest daughter Chanda, played by Khomotso Manyaka, is twelve and the daughter of Emmanuel: the love of Lillian's life and by whom she was left widowed. During the course of the film, it is revealed that he died of that 'other thing', more commonly known to us as AIDS. It is also clear to the audience that Lillian is infected as well; although the community tries to hide and ignore it at all costs. At this point, we see that this may not be the open-gate community it professes, in song to be – however melodious its external sound there is a deep disharmony here. The tendency here seems to be a moralistic one where we: the audience, accuse the community of not embracing its own.
However, it is more nuanced than that, because, as the filmmaker attempts to portray, this community is a largely caring and jovial one showing a profound concern for its members. Nonetheless, it's also struggling to cope with the fact that life is not as clear-cut as it sometimes appears and hence latches on to a fundamentalist attitude in an attempt to protect itself from the pains that present themselves in the ordinariness of life – essentially allowing their fear to provoke greater pain than the pain they were hell-bent on skirting. Being a film, it is difficult to show this attitude manifesting in each of the characters and so the script-writer chooses to show this mainly through the eyes of Mrs Tafa (Harriet Lenabe), Lillian's closest friend, as she simultaneously tries to uphold the fabric and reputation of the community whilst wrestling with the impact that some of these apparent virtues also have on her conscience.
There are only two occasions where AIDS is openly referred to and acknowledged, and, in these cases it is mentioned either by youth or by medical professionals; it is never mentioned by one of the older locals in the community. In fact, it is so despised, that it is referred to as 'the devil'. Chanda is aware of her mother's suffering and displays a maturity well-beyond her years. When others are trying to ostracize her mother and remove the problem from their community she fights it – quietly most of the time. As Lillian's condition weakens, she is encouraged, by the sangoma (witch-doctor) to leave Elandsdoorn and return to Tiro, her motherland, to reclaim 'what was taken from' her; this prompts Chanda to go against her community; a serious offence, and bring her back home; and so a journey of true beauty begins.
The story is engrossing and multi-relational. Despite Chanda being the principal actress, which she plays with remarkable sensitivity and conviction for a first-time actress, the story is by no means focussed on her and South African director, Oliver Schmitz takes great care to preserve that it is the Life of all, above all which needs to be respected here. Even though the community and certain individuals engage in despicable deeds, among them stoning, persecution, prostitution and alcoholism; he does not seek to paint them as criminals but as humans with an intrinsic worth; and there is, above all, even if not in the typically accustomed Hollywood way of doing things, love and redemption.
Nonetheless, there is something nagging about this picture; which as a South African, I feel needs to be clarified. In some ways, it appears to me, naïvely maybe, that much of the opinion presented in this film is too harsh a criticism of small-town life in South Africa today. It is always going to be difficult to portray life as it is in all places; and so a certain generalisation must necessarily take place. I, nevertheless, fear that this film will only serve to reinforce the cinema-going public's, already abundant, false and pessimistic impressions of 'life in Africa'. In my limited experience, I find it hard to see how a small community can be so destructive to the life of one of its individual members. Perhaps, all I can claim with such an observation is how I should count my blessings for never having experienced such traumatic isolation in my time and to thank God for His great Grace. On the other hand; this affords us all the opportunity to consider and pray for those in so many parts of our world who are afflicted by circumstances similar to those found in Elandsdoorn and to pray, clichéd as it may sound, that there may be more Chanda's in this world.
Earlier this year; the premiere of Life, above all, based on award-winning book, Chanda's Secrets, by Allan Strasson at the Cannes Film Festival, enjoyed a ten-minute standing ovation. Having now seen it, this is by no means surprising. There is an authenticity about this film, which is enhanced by the fact that it is shot in a native language, but is by no means the only factor. Credit is also due to the simplicity of the cinematography – no special effects here. Ultimately though, it is to be highly commended for superb acting from a relatively novice collection of actors portraying what must be some of the most harrowing of human experiences.


Ricardo da Silva SJ




 Visit this film's official web site