Posted on: 1st October 2010 |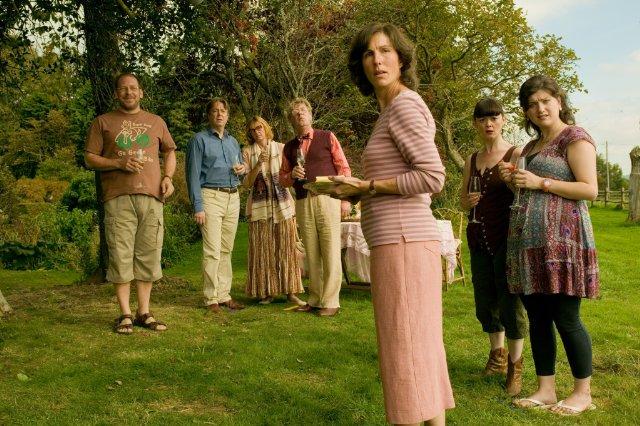 Director: Stephen Frears
Starring: Gemma Arterton, Roger Allam, Luke Evans, Tamsin Greig
UK Release date: 10 September 2010
Certificate: 15 (114 mins)


You could say that Tamara Drewe does for Dorset what Inspector Morse did for Oxfordshire: endlessly showcasing its lush countryside through the turn of the seasons, from dinner in the garden on balmy summer evenings through mists and mellow fruitfulness to Christmas-card cottages in the snow (but never in the rain!) – it makes you want to move there.
At another level, though, it does for Dorset what the Boston Strangler did for door-to-door salesmen (or, if you prefer, what King Herod did for Mothercare) as it reveals behind the outward appearance of the rural idyll a world of teenage boredom and grown-up lust, envy and betrayal.
The film is based on the Guardian comic strip by Posy Simmonds. The Tamara Drewe of the title, played by Gemma Arterton, grew up in the village of Ewedown and after some years in London returns a different woman, because she is now a successful journalist and because she's had a nose job. Her main aim in coming home is to do up her parents' old house, which she has inherited, and sell it. But things do not go quite as straightforwardly as that.
The village's most famous resident is successful crime-writer, Nicholas Hardiment, who has turned his home into a kind of rural retreat for writers ('How goes the opus?' he quips as he passes one of them on a walk through the fields – just the kind of inane and unhelpful thing people really do say). The place is run by his wife, Beth, who not only cooks and cleans for all these guests – cream teas and all – but also puts up with his serial philandering and handles his fan mail. Their gardener and handyman is Andy Cobb, a local man who, we are told several times, was born in the house Tamara is now trying to sell and has now been contracted to do the painting and decorating. He had a brief fling with her when they were both hormonal teenagers and still harbours feelings for her.
As if that were not enough sexual tension to be going on with, a couple of present-day hormonal teenagers, Jody and Casey, are added to the mix. They throw eggs at passing cars and hang around the village bus stop (the bus never comes – this is rural England) leafing through their magazines and dreaming of 'buff' celebs like rock star Ben Sergeant. It is when Tamara is sent to interview the same Ben Sergeant and gets to meet him in the flesh (sic) that things really start to kick off.
One of the strange things about the film is how few locals we see: the Hardiment household are incomers; we get the occasional glimpse of an irate, posh, lady farmer next door; and so by my reckoning, apart from recently returned Tamara herself, only Andy and the two teenagers are genuine natives. The pub, staffed by a cheery Aussie barmaid, is always either empty or closed.
Perhaps that is a realistic reflection of rural English life – I wouldn't really know. If so, then here is a potential moral theme of this film, albeit a tangential one: the exposing of a gradual, back-door version of the Highland Clearances that has thrown local folk out of their homes to make rural England into a playground for rich people from London.
The more deliberate moral themes are time-honoured ones: the pain and distress caused by infidelity; the sexual objectification of some women by some men, and of some men by some women; 'Oh what a tangled web we weave...'; and 'beauty is only skin deep' . Tamara insists that having the nose job was the best thing she ever did, she enjoys her attractiveness and you might even say she exploits it, but at one point she complains that people took her more seriously as a journalist before she was beautiful.
You might be disappointed then, if you went to this film hoping for new moral ground to be broken, but you won't be disappointed if you're looking for an entertaining story with some real laugh-out-loud moments, well constructed, convincingly performed and great fun to watch.


Peter Scally SJ




 Visit this film's official web site