Posted on: 20th August 2010 |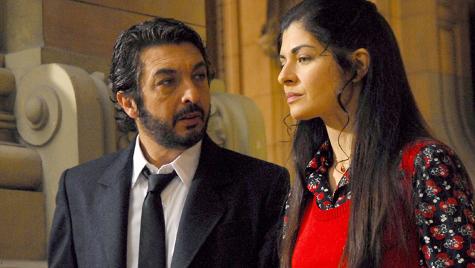 Director: Juan José Campanella
Starring: Ricardo Darín, Soledad Villamil, Guillermo Francella
UK Release date: 13 August 2010
Certificate: 18 (129 mins)


This complex, absorbing, beautiful film from Argentine director, Juan José Campanella (known for his US TV work on Law and Order and House), won the 2010 Best Foreign Language Film Oscar. I was happy and relieved to be watching a grown up crime thriller. Happy, because believable complex characters kept me and my companion riveted to the final scene. Relieved, because this was the first time in ages when I didn't feel that watching a film was a waste of time, because I couldn't wait to discuss it, and because of the anticipation that I would watch it again to catch things I'd missed and to appreciate the music even more
Benjamín Espósito (Ricardo Darín) is a judge's investigator in the Buenos Aires Justice Department who loves his work, his alcoholic colleague, Pablo Sandoval (played by Argentine comedian, Guillermo Francella), and his boss, Irene Menéndez-Hastings (Soledad Villamil). Twenty five years later, unfulfilled and recently retired, he begins to write a fictional account of a harrowing case of rape and murder that has been haunting him. He seeks out Irene, his former boss, for her opinion on his project. The film is set in 1999 and flashbacks to 1974, the time of the case. In 1974, Benjamín has just fallen in love with Irene, his new chief, fresh from the Ivy League, who is in a social stratum way above him and engaged to be married. He is awkward and tongue-tied and envies his colleague and friend Pablo for his ready, flirtatious smooth talk. Reluctantly attending a crime scene of a case of rape and murder, Benjamín is completely arrested by the beauty of the young victim and the horror of the scene. His nerve builds from this damascene moment and is strengthened by the example of intense love shown by the victim's husband. A racist framing and cover-up to 'bury' the case send Benjamín into battle with judges and other lawyers and increase his determination to solve the case. An intuition centring on photos of the victim send him and Sandoval on the trail of the killer, Isidoro Gómez, culminating in a dramatic five-minute scene – a needle-in-a-haystack football stadium search and chase amongst 50,000 fans and a match in play. There are many other outstanding scenes, including one where an accidentally torn blouse leads Irene to calculatingly and mercilessly provoke Gómez into a brutal confession of the rape. To say any more would ruin the suspense and surprises. Suffice to say that 25 years later the case is solved but is still haunting Benjamín, even after his book is finished. In the process of writing the book and reconnecting with Irene, Benjamín examines the 'thousand versions' of his past – his guilt, his paralysis, his grief. In reflecting on the case he comes alive and finally re-solves it, finds his voice, acts on his passion and embarks on a relationship with Irene.
The law office is such a perfect place for high drama and the setting of this film is brilliant, both in the physical detail and in the human relationships. The towers of paper dominate an office that's like a playground of flirtatious quips, intense friendships and banter, feuds and power games. Although the political backdrop is muted; justice is in decline, and corruption, violence and intimidation are in the ascendant.
The Secret in their Eyes has all the qualities of a classic: the murder case that won't 'die'; an experience that intensely forms and binds three colleagues with a common purpose against a corrupt system; a 25 year time shift; the unreliable, yearning, hangdog-narrator; as well as suspense, love, passion, revenge, kidnapping, dark and wild humour, and superb acting. The cinematography has an intelligence that communicates itself subtly, yet its range is impressive: short focus points pull in the viewer's attention; intimate shots of skin and hair create natural pauses in the drama; the dazzling football stadium scene moves to the collegiate womb of the cramped office desks, clutter and paper, which give way to the cold massive corridors and porticoes of power and corruption in pre-Junta Argentina.
The director described the film's distinctiveness as being 'soft-boiled guys in a hard-boiled story' and it is that 'everyman', flawed quality of the characters that is so engaging. This is a detective story which examines the longevity of passion and the need for purpose. At the heart is a romantic yearning, but also prominent is a great story of the love of colleagues who are friends (Benjamín and Pablo), where humour takes the place of sentimentality but we are left in no doubt that this love is unconditional and self sacrificing. The film's lack of cynicism and commercialism (no product placement here), add to its timelessness and satisfaction. I hope it gets the wide distribution it deserves.


Jane Leek




 Visit this film's official web site