Posted on: 13th August 2010 |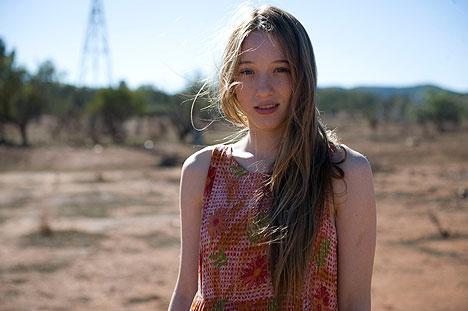 Director: Rachel Ward
Starring: Ben Mendelsohn, Bryan Brown, Maeve Dermody, Sophie Lowe, Rachel Griffiths
Certificate: 15 (90 mins)


Australian film, Beautiful Kate is the directorial debut of actress Rachel Ward, who became well known in 1983 when she played Meghann in The Thorn Birds. The story was adapted by Ward from a novel by Newton Thronburg, whose crime novel, Cutter and Bone was turned into the excellent thriller, Cutter's Way back in 1981. Thornburg's novel is set in the snowy outskirts of Chicago but Ward has transplanted the story into the parched landscape of the Australian outback. This is an impressive feature debut; it is good looking (thanks to photographer Andrew Commis), and it has some fine acting from an ensemble cast.
The film has its problems, though, particularly with the character of the titular Kate.
Asked by his younger sister to come home because their father is dying, prodigal son Ned (Ben Mendelsohn) drives through the bush to the family farm. 40-year-old Ned is now a published author and this will be his first visit in 20 years. With Ned in the car is his sluttish young girlfriend, Toni (Maeve Dermody), a would-be actress who is looking out for no-one but herself. Driving through the night, she taunts Ned about the fact he is twice her age. Before reaching the farm they accidently run down a kangaroo; the windscreen is suddenly splattered with blood, no doubt a dark omen for the rest of the story. Arriving at the farm they find the old man, Bruce (not 'Dad'), played by Bryan Brown, wheezing in bed. Even though he is near death, the family patriarch cannot stop taunting his oldest son over his choice of profession and the fact he's never managed to keep any of his string of girlfriends. The hatred and contempt between father and son is palpable and mutual. Nursing Bruce is Ned's younger sister, Sally (Rachel Griffiths) – the only calm and selfless element in this emotional hot-house. On the old man's bedside table is a photo of his dead daughter, Kate, Ned's twin, who died when they were teenagers. The old man calls Kate his 'greatest achievement'. He clearly blames Ned for her death.
So far this all feels very southern gothic. A bullying patriarch and a dysfunctional family straight out of Tennessee Williams.
Opening and smelling a jar of ointment from a bedside drawer, Ned is jolted into the first of the film's many flashbacks – back to the time when Kate (Sophie Lowe) was still alive. Ned's twin is a coltish tomboy, grinning with confident good looks and teenage daring. The first couple of flashbacks are entirely from Ned's point of view, shaky camera and all. So we see Ned's feet, but not his face. (I'm not sure this directorial strategy works since it draws so much attention to itself.) When we finally get to see the face of the young Ned (Scott O'Donnell), he actually has a striking resemblance to Mendelsohn. As the flashbacks increase there is a growing eroticism between the teenagers, with the brooding Ned looking fearful and uncertain while his reckless and ever-grinning twin dares him on to an incestuous relationship.
I'm afraid I wasn't convinced by any of this. Granted that the flashbacks are all filtered through Ned's guilty psyche, but on the evidence of his memories alone Kate seems to be missing one or two of the elements that make up a believable human being. This is not a couple of twins who were separated at birth and, reunited as teenagers, find themselves sexually attracted to each other. They are twins who've grown up together on the same farm and suddenly one of them is blithely daring the other into having sex, and without a second thought. As I say, not entirely credible.
Back to the present. After a series of rows with Bruce and Toni, Ned retreats to his dad's old den, finds a paper pad and pen and starts to write a diary of his thoughts and his memories of Kate. It is soon apparent that this is merely a plot device to get Toni out of the story. While Ned is out clearing a barn, Toni inevitably discovers the diary. On his return she confronts him with his incestuous past and calls him a pervert. He slaps her to the ground. She runs out on him and promptly hitches a lift back to Sydney. Again conveniently for the plot, it is at this point in the story that Sally has to leave for a few days as well, leaving father and son to bask in their mutual hatred and contempt.
While Sally is away, some old truths are aired and the cold war between Bruce and Ned begins to thaw. Inevitably, just before the old man's death, the patriarch and the prodigal son finally get round to embracing each other. Ned calls his father 'Dad' for the first time in the film.
After Bruce's burial, Ned asks Sally if she's now going to leave the area. Sally answers by taking her brother to see the community school she runs for the local aboriginal children. It is only at this point that Ned realises the essential goodness in his thirty-something younger sister, who has been selflessly looking after everyone else while they were all obsessing over a dead teenage beauty.
'It's funny, you know', says Ned, 'a man can live his whole life and never cop to his greatest achievement ... you.'
Which of course highlights the irony in the film's title: Sally's brother comes to this epiphany at the age of 40, but it is alas too late for her dead father.


Peter Bridgman




 Visit this film's official web site