Posted on: 27th November 2009 |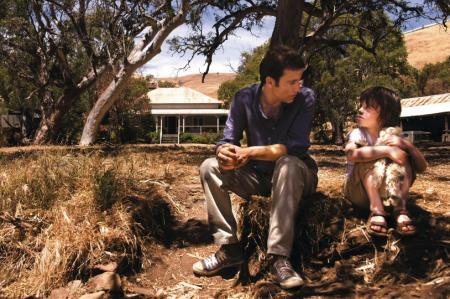 Director: Scott Hicks
Starring: Clive Owen, Laura Fraser, George Mackay, NicholasMcAnulty
UK Release date: 22 January 2010
Certificate: 12A (100 mins)


What would Lord of the Flies have been like if a man were in charge of the lost boys? Probably not very different is my conclusion, after seeing what goes on in The Boys are Back. Based on Simon Carr's memoir, The Boys are Back is set in the antipodean idyll that is the dream of many a British Aussie-phile. Clive Owen is Joe Warr, British sports correspondent married to Australian beauty Katy (Laura Fraser) and father to the rambunctious Artie (Nicholas McAnulty). Katy unexpectedly develops cancer and dies, leaving her husband and son behind. The film then becomes a reflection of how to live after death in the genre of Don't Look Now and Genoa, but there is a twist. His teenage son Harry (George Mackay) that he abandoned in England when he ran away with his second wife to Australia wants to leave his boarding school for a few months to come and live with him.
The film sounds a dreary prospect but there are several things that save it from being melodramatic stodge. Firstly the pictures are breathtaking; I've never seen Australia look so beautiful. The place glows a goldenness of the Australian fantasy. Furthermore, there is a sense of humour present. One might feel uncomfortable that so many of the jokes are based around situations of bad parenthood, but it is also quite liberating to laugh at these awkward situations. It relieves a lot of the tension that is built up around children and their health-and-safety, bubble-wrapped existence so evident today.
Not that the film is reckless in its attitude to parenthood; the father acknowledges his mistakes and matures as the film progresses. He knows his bad parenting is not the way things are supposed to be.
There is a lot of best actor Oscar buzz around this film for Clive Owen. Owen is at his most charming, I have not seen him this good since Closer. It plays up to his man's man image, which he then subverts; he's allowed to be that cheeky English boy-man but with responsibilities, he's finally grown up. It is a familiar theme, as seen in the extremely popular Apatow films, but thanks largely to high class acting this is a cut above those Hollywood comedies. The sons are equally impressive. While the elder Mackay does a profound, subtle job as the introverted teenager, it is obviously the more exuberant young Mackay that is burnt into one's memories. The energy of the film is largely down to his portrayal of complicated childhood. He's both enigmatic and familiar, and his antics are extremely effective when it comes to the attention grabbing they are designed for.
Religion is not tackled at all in this modern story about death. There are confused notions of the afterlife that are distinctly Post-Christian. One might think that a more Christian understanding would have helped the family, but the boys are left without any such help, and though sad, it is certainly realistic. If faith can do anything well, it tends to develop rituals that often effectively deal with the trauma of death. Admittedly, it can also be hard to understand why God would take away something so beautiful in the world (and the beautiful ghost of the amazing Fraser haunts the entire film).  I've seen death raise sad questions and make people angry with God. Similarly, as in my own experience, in mourning, people often have never felt the closeness of God so fully. The characters here deal with these questions about love and death, and it offers some beautiful, witty reflections that are just humanly true without taking on a religious language. Love, of course, is what leads people from death to life, and even secular films can consider that.
The honesty of the film is what makes it stand out, and even though at times its structure as a cohesive story flounders, there is a real sense that this was how things happened. I can see that this would have been exactly the way my father would have raised us if he alone were in charge. It is absolutely believable and heartfelt. I've not cried so much in a movie about father-son relationships since The Return of the Jedi. It made me think about my dad, you see, and that made me feel all warm and fuzzy inside. So get your excuses ready! This film is what man-sized tissues are made for. 


Stefan Garcia SJ




 Visit this film's official web site