Posted on: 11th September 2009 |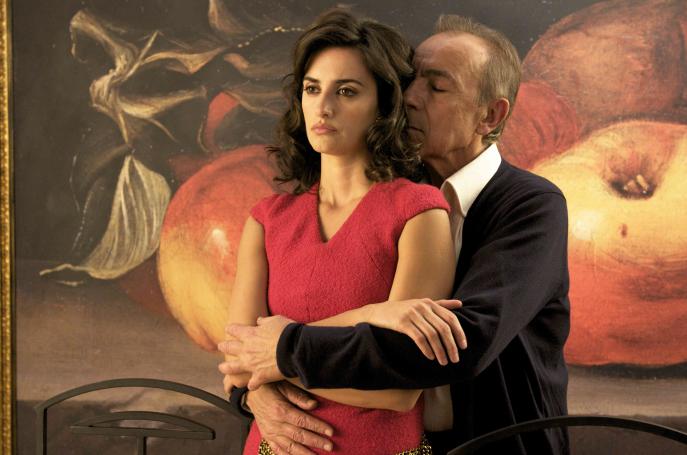 Director: Pedro Almod?var
Starring: Pen?lope Cruz, Llu?s Homar, Blanca Portillo, Jos? Luis G?mez
UK Release date: 28 August 2009
Certificate: 15 (128 mins)


On the run from her jealous and murderous ex, actress Lena (Penélope Cruz) has escaped with her lover, film director Mateo (Lluís Homar), to the volcanic island of Lanzarote. Cuddled up on the sofa in a beachfront hotel room, the lovers watch an old movie on television: Rossellini's Voyage to Italy.  In that film, Ingrid Bergman and George Sanders visit an archeological dig at Pompeii where hollow cavities have been discovered inside the volcanic ash.  These the archaeologists have injected with plaster. As ash is carefully removed from one of the plaster shapes, an adult couple is revealed, caught at the instant of death in a frozen embrace.  Ingrid bursts into tears.
That scene – from the middle of Broken Embraces – is so fleeting that it is only after leaving the cinema that one realises how well it was chosen.  Like many of Pedro Almodovar's films, this is an enjoyable melodrama, a tale of violence and passionate love.  But it is also a layered work that is littered with references to other films, and the scene from Voyage to Italy is only one of its many films-within-films.  Broken Embraces, which has a film director as the main character and another fictional movie at the centre of its plot, is very much a study of the film-making process.  This is Almodovar's 17th film (unbelievably, he turns 60 this year) and it is his longest and most complex to date.  Broken Embraces is possibly intended to be a career summation.  Perhaps his 8½.
The story begins with a steamy sex scene between a blind middle-aged scriptwriter and a much younger blonde woman he has apparently just met on the street.  We learn that the man has a double identity and has two names.  'Mateo Blanco', his real name, was the name he used when he was a successful director.  The pseudonym he now uses for his writing is 'Harry Caine' (perhaps an amalgam of the Orson Welles characters Harry Lime and Citizen Kane.)
Switching back and forth between Madrid in the early 1990s and the present day, the story establishes that fourteen years ago, Harry/Mateo had a violent car accident on Lanzarote, in which he lost his sight and – every bit as important to him – the love of his life.  After the accident, Mateo effectively changed his identity, denying but not forgetting his previous career and the love he has lost.
News arrives of the death of a corrupt business tycoon Ernesto Martel (wonderfully played by José Luis Gómez), who once financed a movie Blanco directed called Girls and Suitcases.  Blanco's former production manager, Judit (Blanca Portillo), who still holds a flame for him, seems worried at the news. And then an angry young man calling himself Ray X (Ruben Ochandiano), who turns out to be the tycoon-producer's son, asks Harry to help him write a script as an act of revenge against his hated father.
The story now flashes back to 1992, when the tycoon falls for his secretary Lena, an aspiring actress who has a poor father dying of cancer.  The tycoon pays the father's medical bills, thereby placing Lena in his debt. Two years after this, he and Lena are a couple holed up in their own version of Kane's Xanadu.  Now a rich man's trophy, Lena is dripping with gold and jewels but she still yearns for an acting career.  When Lena auditions for Girls and Suitcases (followed by a screen test that recalls the chic glamour of Audrey Hepburn and Leslie Caron), director Mateo falls for her.
Suspicious of the change in Lena's behaviour, the tycoon gets his son (Ochandiano again, playing a camp teenager mincing about like Sacha Baron Cohen in Bruno) to spy on Blanco and Lena under the pretext of shooting a video documentary about the making of Girls and Suitcases.  Since the teenager's daily footage turns out to be largely inaudible, the tycoon employs a female lip-reader to translate Lena and Blanco's onscreen whispered conversations.  These scenes are hilarious but our laughter soon evaporates when Martel takes his revenge by pushing Lena down a flight of marble stairs.
Once out of hospital, Lena tells the tycoon she's finished with him and escapes to safety and Lanzarote with her lover.  With his rival out of Madrid, the tycoon-producer decides to hijack the film and sink Mateo's career by assembling a movie out of all the worst takes.  Out in the vast windswept landscapes of Lanzarote, Lena and Mateo read in a newspaper that their movie has been released and is a stinker.  It is savaged by the critics.  Mateo decides to return to Madrid to confront the tycoon-producer and save his career when he and Lena have the fatal crash.
Was the collision an accident, or was it murder?  The rest of Broken Embraces will answer that question but it must also be said that the rest of the film is a bleaker one that seems to inhabit a country with a lower temperature. From the crash onwards a sorrowful chill hangs over Harry and his story.
In some ways Broken Embraces doesn't really recover from Lena's death.  Cruz has become Almodovar's muse and this is their fourth film together.  When she is on screen his camera lingers lovingly on her.  In his hands she is so photogenic she is almost mesmerising.
Cruz reappears in the final reel in a light comedy scene from Girls and Suitcases that Harry/Mateo and Judit are watching in an editing suite.  Using Judit's eyes and his own ears, Harry is re-cutting the 1994 disaster. Though this (very lengthy) chunk from the film-within-a-film was amusing it felt like padding.  And I wasn't sure why the genre had suddenly switched to comedy.  Bring back the melodrama!
After leaving the cinema, I maybe realised the point Almodovar was making.  The comedy scene was in the style of his first success – the light-comedy Women on the Verge of a Nervous Breakdown from 1988 – and Almodovar is in reflective mood, looking back over his career.  As with the volcanic ash that can preserve the shape and image of a 2,000 year old embrace, celluloid is a means of preserving human emotions forever.  With a director's cut that will no doubt revive his film's reputation, the blind director ensures that his luminous leading lady will join the immortals.


Peter Bridgman




 Visit this film's official web site