Posted on: 30th March 2009 |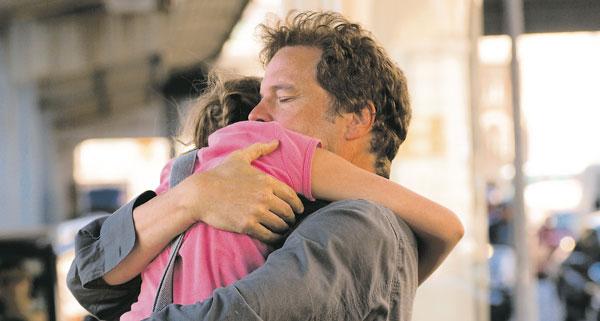 Director: Michael Winterbottom
Starring: Colin Firth, CatherineKeener, Hope Davis, WillaHolland, Perla Haney-Jardine
UK Release date: 27 March 2009
Certificate: 15 (94 mins)


Michael Winterbottom's Genova is a meditation on emotional escapism and the detrimental effects it can have on the life of a family. After the tragic loss of his wife Marianne, Joe (Colin Firth), a British lecturer working in an American university, takes his two daughters to the idyll of Italy, to the historic city of Genoa. An old flame, Barbara (Catherine Keener), has found both an urban flat for the family to live in and a summer course for Joe to teach, and, while there, the family attempt to deal with the huge changes brought about by Marianne's death.
The family dynamic is matter-of-factly rendered, particularly as we see the lack of honesty so definitive of unhappy families. Joe gets stuck in at work, basking in the attention of his glamorous, young students. Meanwhile, Kelly (Willa Holland), the elder daughter, attempts to lose herself in a secretive life of hedonism, exploring the sex and drugs that are easily accessible to the young and beautiful. Her younger sister Mary (Perla Haney-Jardine), feeling extreme guilt for her role in the car accident that caused Marianne's death, starts to see her mother's ghost, returning to comfort and reassure her with forgiveness. Mary turns to art to express her grief and, interestingly, to religion. Mary develops the devotion of lighting candles to pray for her dead mother after she is introduced to the practice by Barbara as an outlet for grief. When Joe learns of this, he is angered by what he considers to be the encouragement of a morbid obsession. Neither daughter wants to share the real state of their inner lives with their father. He only adds to their confusion, as he is conflicted by what he assumes is best for his family, moving on, and what the family really needs: the right expression of the anguish that is destroying them.
The female leads are phenomenal. Both daughters give realistic and captivating performances: Willa Holland's pouty teenager seems like someone I could actually know, and Perla Haney-Jardine is extraordinary as the younger daughter. She seems capable of manipulating the energy of her eyes, so that they are at times intensely warm and, at others, ethereally distant. Needless to say, Keener always adds a few stars to a film's review. No other actress is as intuitive in their understanding of how people tick, and her Barbara is wondrous mix of friendliness, intelligence, concern, jealousy, and love. Ultimately, the film is hindered by Firth's character being so central: he fails to inject any sense of strength into the father figure, and he is always outshone by his female co-stars. One can understand how Firth's general coldness may have fit the part quite well in some senses (he can do the British stiff upper lip that is the source of the family's suffering), but he remains so unattractive that I never really felt concerned about the family's future. Once again, boring dad has really wrecked another promising family holiday.
A consoling factor is the brilliant portrait of travel and especially its escapist aspects. Genoa is a city of culture, history, and charm, and all of the characters fall for it. But all cities have the complexity of human beings, and the film wonderfully represents not only Italy's seamier side, but also the fear and fascination that are always present when one embarks on a journey. While the film is punctuated with scenes of sunlight and darkness, it is the latter that sticks in the psyche. The nervousness brought about by the frantic camera work, atmospheric music, and poignant acting causes genuine anxiety.
In a beautiful monastery, hidden in the secluded coves around the picturesque town of Santa Margharita Ligure, Mary asks why such a place is so far away from people. Barbara responds that it is because the monastery was constructed by men who wanted to leave the messiness of the real world in order to build a better one. The monastery was a flight from the ugliness of the real world, much like this trip to Genoa. Of course, the family, like every monk or nun who has expected a heaven/haven, finds that reality is omnipresent. Escape is futile, and like the hound of love, feelings need to be embraced to be conquered.


Stefan Garcia SJ




 Visit the IMDB page for this film