Posted on: 24th November 2016 |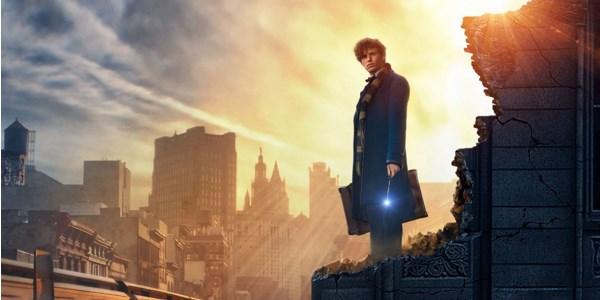 Director: David Yates
Starring: Eddie Redmayne, Katherine Waterston, Alison Sudol
Certificate: 12A
Running time: 133 mins
UK release date: 18 November 2016
Fantastic Beasts and Where To Find Them is JK Rowling's first screenplay, brought to life by David Yates, who rose to prominence by directing the last four Harry Potter films. If you know your Muggles from your House Elves, the chances are that this is a production you have been looking forward to, and you'll know that it has something to do with the book Harry and his schoolmates study at Hogwarts.
Even if you didn't know any of that, there was every reason to have high expectations of this film, with its $180 million budget, key Potter-world creatives behind it and a familiar cast. And it does not disappoint. It sits comfortably in the territory of 'Harry Potter for grown-ups'. Most Potter fans will go home happy, and there is enough to intrigue and satisfy even those who might be casting a line into the waters of wizardry for the first time. However, the film is probably 20 minutes too long and might fail to hold the attention of some younger viewers, who will also struggle to empathise with Fantastic Beasts' motley crew of adult wizards as they did with the much-loved students of Hogwarts.
Set in New York in 1926, the film follows the adventures of Newt Scamander (Eddie Redmayne), a wizard adventurer who has collected and documented a vast array of magical creatures. A mix-up in a bank draws a No-Maj (American for Muggle, someone who has no magical powers), Dan Folger's likeable Kowalski, into Scamander's world. Before long, things are getting out of hand. Kowalski must come to terms with a world he never knew existed, while a dark magical force is blazing a trail of seemingly random destruction across the Big Apple.
At the heart of it all is a typically frenetic performance from Redmayne, while the rest of the cast busy themselves building a believable world where fear of the other creates a near-hysteric dread of mass violence, which in the current climate is an all-too-apt and important metaphor. Beasts could easily have been set in modern-day America, as it treatises the place of the marginalised immigrant trying to find safety amidst angry, fundamentalist zealotry in a fear-governed society. The film does not hesitate to showcase the vitriol of movements based on a dehumanising objectification of the 'other'.
This is most aptly seen in the final third of the film, which is concerned with the fate of two children – Credence (Ezra Miller) and Modesty (Faith Wood-Blagrove). Their names illustrate that the film is pitting the certainty of arrogant, intolerant and dogmatic ideology against a more human, merciful, and compassionate humility.
If this all sounds quite heady, be assured this is not always the case. The film, though, is often dark – perhaps too much so for the younger members of the audience. Youngsters might also be frustrated at the somewhat pedestrian opening stages and exposition of this new world of wizards and Prohibition. But there is an excellent surprise cameo at the end and, as per usual in the first film of a potential franchise, the narrative is left somewhat ajar for future instalments. As we have come to expect from the Harry Potter years, there is some top quality CGI and production design on display, which can be appreciated even in 2D. The final set piece in particular is very much worthy of the franchise – epic in scope and character tension. And that is just one of the reasons why these Fantastic Beasts are well worth finding.