Posted on: 28th June 2013 |
Publication details:
Writersworld, 2012 439 pages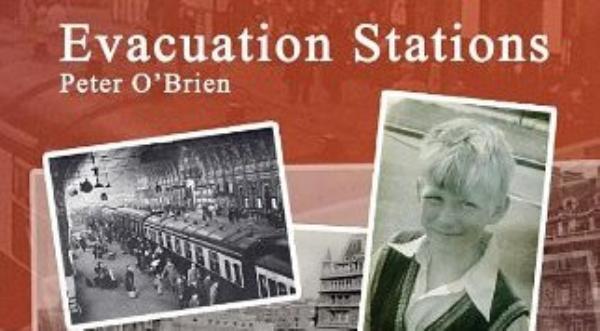 The title selected by Peter O'Brien might be mistaken for the words of command preparing men for the worst at a time of military or naval crisis, but he is writing about war in a domestic context. The 'evacuation stations' in question are, for the most part, the London terminuses which saw children off to areas of greater safety when the capital was the potential or actual target of enemy air attack. The author tells us that until that time he had never had cause to set foot on a train and adds, 'for me the railway station and the train came to symbolise the moment and the reality of evacuation, a symbolism that was reinforced as the moment and the reality were to be repeated again and again during the war.'
The new and unfamiliar journeys by train took him and the school¬children with him to new and unfamiliar towns like Falmer and Paignton, Hertford and Hemel Hempstead. There were to be brief returns to home in London and throughout his narrative, O'Brien shows that he had a great sense of family. At home his mother was the more obvious influence and he speaks of her always with a love which contains a great deal of respect. His father, called up for service in the Navy in the third year of the war, was a more reserved but no less strong influence. There was a somewhat older brother, one rather younger and eventually two more. Two sets of grandparents lived close by and there were not a few uncles and aunts. The family became dispersed by circumstances but never fragmented. All were Catholics and their church-going in the most positive sense is taken for granted.
The eight-year-old evacuee of 1939 had that strong background and reveals himself as sharp-eyed and quick-witted through the story he tells. He has a striking sense of detail; streets, for example, are always given their name and salient features of the housing are noted. This is never wearisome but simply adds realism and interest to the recollections of a bright youngster who likes the look of things. Like any young boy, Peter had a taste for exploring the localities in which he found himself, happy to do that in the company of his brothers and other companions or simply alone. He was fortunate in having some excellent primary school teachers. This meant that he was on occasion taken to the theatre and that he was encouraged to read more widely. But while he was growing in appreciation of Dickens and Wordsworth, he still had a small boy's interest in the adventures of the characters in the strip cartoons which were then a feature of all but the starchier daily papers. Music came into his life principally through the son of his landlady in Hemel Hempstead. This young man was a medical student at University College Hospital but came home every evening to his mother's house where, after studying for an hour or so, he would play the piano. The room occupied by Peter was above the room with the piano, and so began his introduction to Grieg, Beethoven and Schubert and an interest in the differing styles of the great composers. In that house, Peter had the beginnings of a fine musical education. Small wonder that when eventually he had to leave that landlady and her son he wrote, 'Their house felt increasingly like a second home to me.'
The small boy with a taste for exploring his locality was now beginning to explore literature and music, and when he began at St Ignatius College in evacuation in Hemel (as it was commonly called), his horizons broadened - literally - through the kind enthusiasm of a young Jesuit scholastic teaching there. Regular readers of Thinking Faith will find the chapters on Peter's Jesuit schooling particularly interesting. Later in his life, he was to return to his old school as a master for some years from the middle of the 1950s. He describes life in Hemel wonderfully well. The Jesuit priests and scholastics are given their names, and nicknames, and are thoroughly recognisable in the pen sketches he gives of each one who taught him. Getting from place to place in the town, and from the sleeping quarters to the scattered halls and other buildings where classes took place, was a choice between walking and cycling. To that rule, however, there was one egregious exception. The headmaster, Peter tells us, neither walked nor cycled:
He roared out to Piccott's End on a motorbike. With a muffler round his neck and big gauntlet gloves on his hands, but no covering on his bare bald head, he rode a powerful machine at great speed, not some sedate little two-stroke model on which to chug along.
Piccott's End was a small hamlet a couple of miles from the centre of the town and the little disused Victorian school there was the place Peter came to know best until the College returned to North London.
Throughout his, book Peter works in information about the progress of the war. One relatively trifling example of this occurs when he writes about the headmaster's 1942 Christmas production of Cinderella:
To the end he was always thinking up new ideas... It so happened that at just that time the Russian and German armies were locked in a desperate struggle in the neighbourhood of a town called Veliki Luki, just to the south of Leningrad. The name tickled his fancy so the Ugly Sisters were at once re-named Veliki and Luki.
Peter quotes from the lyrics of one of the choruses sung by the fairies, the music of which, as for the whole pantomime, was composed by one of the Jesuit priests then on the staff. Your reviewer is glad, and in no way surprised, to know that he is not the only one to remember those lovely melodies.
But we should return to cycling. When, at the prompting of the Jesuit scholastic already mentioned, Peter's mother sent him the money to buy her son a bicycle, life became very different. He no longer had to walk about the town or trudge to Piccott's End, and he enjoyed getting to know the locality better than had previously been possible. There could be longer excursions, too. On one occasion the kindly young Jesuit took him to Oxford, where his older brother, now an evacuee with the Salesian College, Battersea, was living. The day was arranged to include a visit to the Jesuit college, Campion Hall and the brothers had tea together before the return journey to Hemel.
When St Ignatius College finally left Hemel and re-assembled at Stamford Hill, Peter and his companions were no longer officially evacuees. He calls the final section of his book, 'A Displaced Person', but gradually he settled into home life again and found his feet in school life in London. He still noticed what was around him: bomb damage in the streets near home and in the City; the ramifications of the Underground; the numbers and destinations of useful trolley buses. And he was on top of his work at school. For a few months, given the long journey from South London to the North, it was felt that it would be wiser for him to lodge with a family near to the school. He had sufficient confidence to let his parents know when he thought it no longer necessary, but while there he took and enjoyed piano lessons. In his last year Peter was appointed head boy and was recommended to try for a scholarship to Cambridge. Everything was going well.
The penultimate station in the book is King's Cross on a day of thick, pea-souper fog. The train is to take him and a school friend to Cambridge to sit scholarship papers and both are successful. The last train of all takes him, as an undergraduate, back to London to be at the deathbed of his mother. His last words about her are that she was, 'central to my life when she was there and when she was not'.
This is a long, but well-written, book of more than four hundred pages. The length should not deter anyone from reading it. This book will hold the attention of anyone with an interest in how ordinary people from London lived in the 1930s and during World War II. For any reader who was caught up in the joys and upheavals that were part of the new experience of being a young evacuee, it will prove an absorbing reminder of those childhood years.
The reviewer, Michael O'Halloran SJ, is a member of the Parish Team at Sacred Heart, Wimbledon.
 Shop for this book on Amazon, giving a 5% cut to the Jesuit Refugee Service, UK